Author: Joe Martinez - director of client strategy at Clix Marketing. Familiar with all aspects of PPC, but most of all interested in display advertising, remarketing and ads on YouTube.
"Best practice" - the fashionable phrase is sometimes jarring. Personally, I avoid to use this expression, and I do not like the notion that there is one standard way to perform a specific task in the PPC-account. All accounts are different and requires an individual approach.
However, sometimes there are tactics and strategies that simply work. Therefore, in this article I would like to cite a number of strategies that are considered necessary to create any campaign on the Google Display Network.
There are five:
Separate search and display campaigns.
Separate Remarketing Audiences from new users.
Keep track of the frequency of display advertising.
Analyze placement.
Create a CTA for the actions that users are willing to perform.
Let's look at each of them in detail.
1. Separate search and display campaigns
This recommendation is linked to the user's intent. Search Network and Display Network allow users to cover two very different purposes.
When users visit Google (or sites in our search partners such as Ask.com), they are actively looking for an answer or a service. Enter keywords in the search engines is a clear indication of the intent of the user.
Thanks to the Google Display Network, we create a different experience. When users are on sites within the Google Display Network (eg, ESPN, or The New York Times), their goal - reading the news or watching other information. They do not go to these sites to see your ad. Therefore, when you create a new campaign on the search network, do not be fooled by default settings, which are from Google.


There is nothing new in this. Over the years, Google Ads instilled MMR in new search campaign. No matter how small your company is, how small your budget. Separate campaign for Search and Display Networks. Then you will be able to better monitor the effectiveness, budgets, and targeting. In addition, you will be able to more effectively optimize these campaigns to suit different intentions of the people of these two channels.
2. Separate Remarketing Audience of new users
We just talked about the differences in the user's intentions in the search and Display Networks. However, this parameter can also vary within the same network. Users who have already visited your website or watched one of your videos on YouTube, is already familiar with your brand. For them, you need a different message, and not to cover the extra people will help the exclusion of certain segments of the audience targeting.
Use this function to separate remarketing campaigns from general campaigns aimed at raising awareness. Firstly, this will prevent any overlap between the two audiences. Also, as mentioned above, you will be able to change their budgets, bids, ads, and possibly landing pages, to better communicate with the user on his way through the funnel down.
As for the separation of different remarketing audiences into separate campaigns, here you can act at its discretion. Most likely, it will depend on the budget that can be allocated for each audience, and the main objective to be achieved through the campaign.
3. Keep track of the frequency of display advertising
Imagine the situation: you go home and see a new billboard. He first attracted your attention, but if you go on the same route every day, then after a while you stop noticing it.
The same applies to media advertising. Eventually a point is reached when the conversion or engagement metrics will fall after a certain number of views.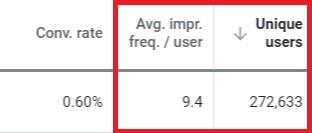 The Google Ads, you can add columns to track how often users see the ad, and the number of unique users who see your ad. It is important to monitor how when you change the number of unique users and frequency of display ads will vary CTR, conversion, conversion rates, and other KPI (based on the order the campaign).
This data can then be used to update the frequency settings, ads with display campaigns. Limit the frequency may be on the tab "Advanced Settings":

The limit can be set at the ad level, the ad group or campaign for a day, week or month. At the same time universal values does not exist. You still need to keep track of how your targeting affect the performance indicators.
4. Analyze Placement
Some advertisers think that the Google Display Network - it's just a huge collection of websites. But this is not the case. If you use these targeting options, like keywords or topics, your ads will be placed in the automatic placement. And these placements include not only websites but also video and applications.
In addition to automatic, you can also use placements selected manually. This means that advertisers can select specific places where they want their ads appear. But even in this case it is impossible to 100% of their control. According to the Google, if a specific site has an equivalent application, ads can also appear in it.
On the other hand, many advertisers want their ads to appear only on sites that are closely related to their products. We're not saying it's a bad strategy - you should definitely aim primarily at these sites. But if you want to expand your reach, then it may help to report on placements.
Once we had a client who sold on the site of children's toys. Do you think its target audience visits the site only toys? Of course not. We also use other types of targeting, such as specific audience by intentions to affinity audiences and in-market audiences to first test coverage to an appropriate audience.
So, we have created a special audience for toy manufacturers and other shops. We also used to target-market audiences for all categories associated with parenting (child care, children's clothing, etc.).
To find out where in fact there are ads and target audience of the most actively involved in the interaction or converted, you can use the report about placements. For our clients with effective placement were sites for recipes, school, available vacancies and other placements that are relevant to those users who may have children.
The resulting list can then be used for setting up ad placements selected manually. And remember that the correct answer - it is not always obvious option.
5. Create a CTA for the actions that users are willing to perform
The most common targeting options for the Display Network campaigns are to affinity audiences and in-market audiences.
The typical way to figure out which of these options would be a good test for the new campaign - is to open the Manager audiences on the Google Ads and compare which of these audiences can be displayed depending on the kind of audience you are viewing the root.
Another way - to use a report by categories of interest in Google Analytics. This report can show you which search-market audiences and affinity audiences, make the current site visitors.

In the above figure - a report "Affinity audiences" ( "Auditorium" -> "Interests" in Google Analytics). In it we see the figures for each goal conversion, set up in GA, as well as ecommerce-transactions and revenue.
Let us assume that in the next campaign, we want to target the segment of "Business Services / Advertising and marketing services" in-market audiences. You can then see what the target action works best for current users who fall into this audience. When we need to reach new users in the same audience, we can add elements to the CTA-ads and create landing pages that correspond to targeted actions for which it is best converted to these users.
Even if you are not using in-market audiences and affinity audiences, try to relate his CTA-elements with the best action that the user may wish to perform. Not everyone is ready to buy right away. Not everyone is immediately interested in a free trial period. Test a few targeted actions and find appropriate call to action for each of your chosen targeting options.
instead of a conclusion
Each account that you manage, will be your path to success. However, in display advertising - as in any other PPC-campaign - you need to constantly test new things to improve the efficiency and obtain better results.
Although each account has its own characteristics, the above "best practices" will help ensure a successful Display Network campaign start.