As site food delivery service to survive in a competitive environment. A Beginner's Guide
Author: Elena Turanova, content marketing referr.ru .
How many in your town food deliveries? I'm sure no one would call an exact figure. Why? They are a huge number. This is especially true of large cities.
How to survive in this competition? Fundamentally work out the delivery of the concept, menu, order picking, and of course, the site. It is important to not just quality, but also memorable.
But that you may remember the customer, he should know about you. And how to do it with so many competitors? You need to be visible in the search engine.
In this article, I, along with referr.ru talk about how to become more visible in the search by using the services of Yandex.
Optimize your website: internal optimization + snippets
Before you start promoting the site, make sure that it is fully optimized, does not contain any errors, and convenient for the user. For this, we recommend to use the service sitechecker :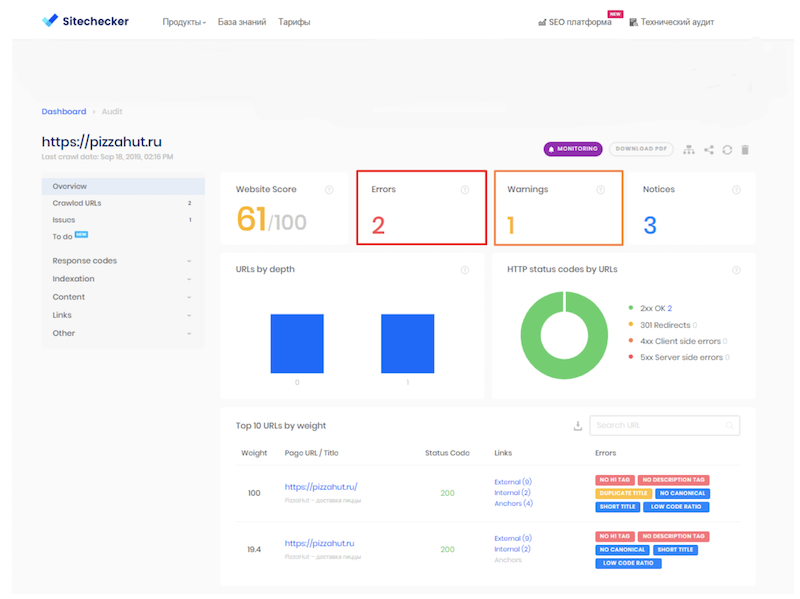 Seo-analysis sitechecker indicate your possible critical mistakes (errors), which hinder the effective promotion and prevention (warnings), which slow down the process of getting a site to the top issue.
Besides seo-analysis tool provides the ability to analyze the position of the site, check backlinks, page analysis and verification of site traffic. In addition to one-time checks, sitechecker can set a regular monitoring of the site, its position and backlinks.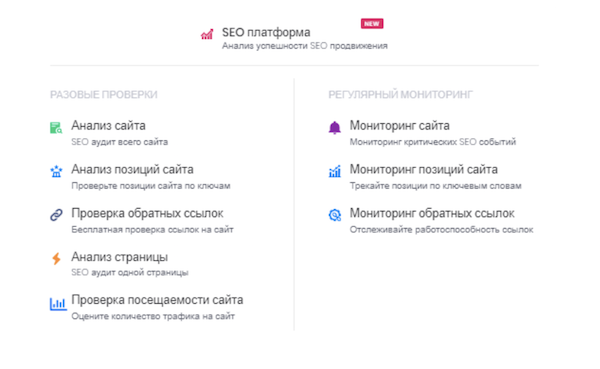 Check the website usability
It is important that the site was the most user-friendly and contains detailed information on the terms of payment and delivery. Do not forget about the description provided meals.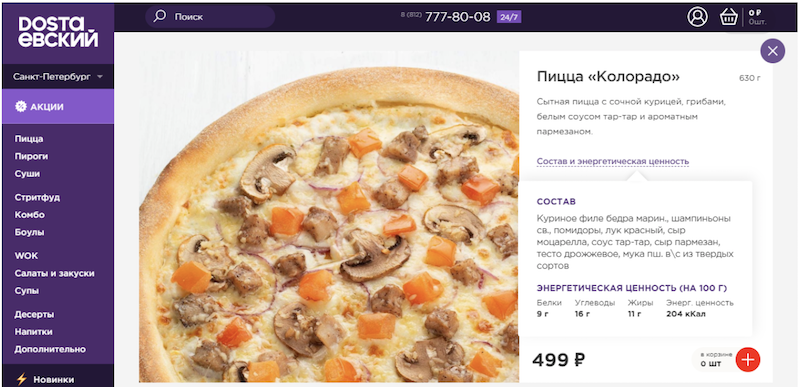 examples:
A good website service delivery

Unsuccessful site delivery service
Also, before you start, make sure to promote the relevance of the contact information posted on the website.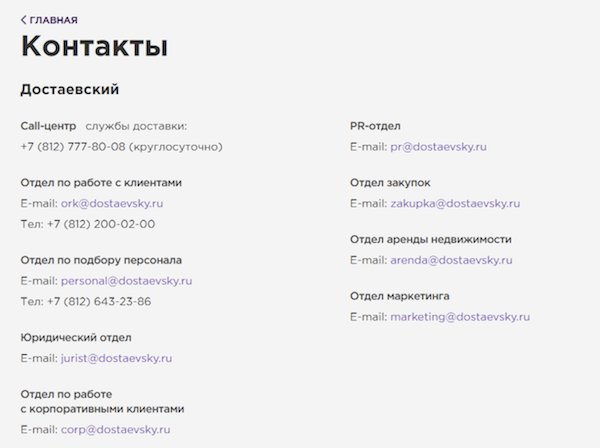 internal optimization

Food delivery services - local business, so keywords and phrases for which the site is optimized, should contain a geographical markers: the name of the city, district, county, metro, street, which sells service delivery.
Where to register the geographical markers? Use them in titles (title), the meta description (description), the contacts and the conditions of delivery.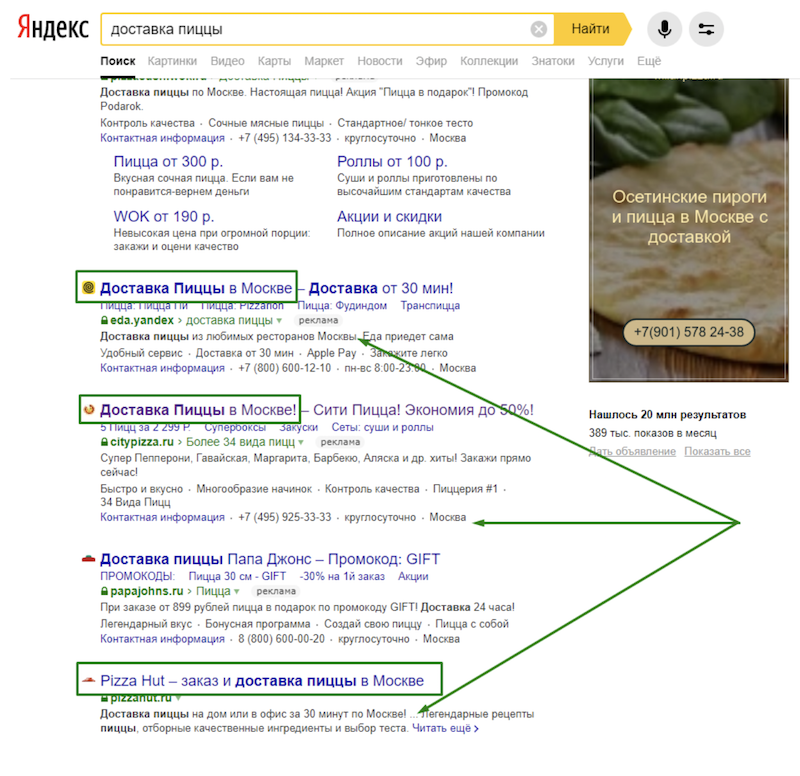 What gives? Yandex sees that your service is focused on a specific location and it takes into account when ranking.
Advanced snippet
Snippet - a piece of information on the page of the site that is displayed in the search results. Thanks to him, the user develops a common understanding of the subject site.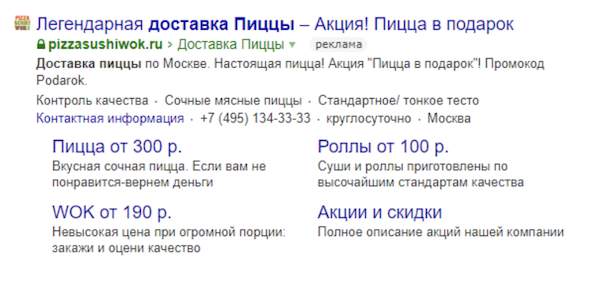 What information should be extended in the snippet:
exact address with reference Yandex.maps;
contact phone number;
categories of food;
price;
service benefits;
promotions, discounts or loyalty system.
To improve the snippet is recommended mikrorazmetku .
Reference promotion meal delivery service
sabmita
Once you are completely sure of the quality of your site, you can start doing linkbildingom. The first thing you should pay attention - sabmita.
Seo submission (submits) - is the placement of site information with reference to it in external sites, providing the opportunity to publish user information.
Where is located?
1. Yandex.Spravochnik - a service containing detailed information about the organization. All you need to get there - to fill in the short form:
2. Yandex - Submitting an important food delivery sites. To make the site appear in the maps, you must specify the exact contact address when filling out the form in the directory (screen form above).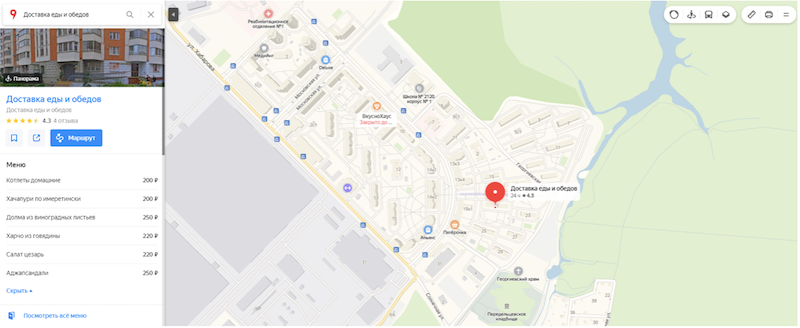 3. Koldunschiki - a search elements, responding to the query directly on the page of issue. In koldunschiki can be accessed by placing food photo on your site or video reviews. Read more about it here .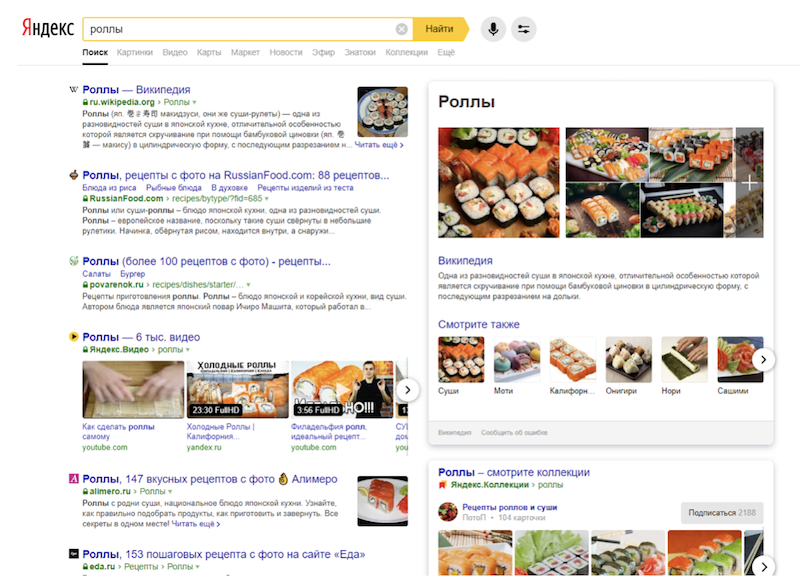 4. Yandeks.Rayon - a service for communication between neighbors in certain areas. Simply put, the neighbor's social network. There is no need to register. Simply log in Yandex.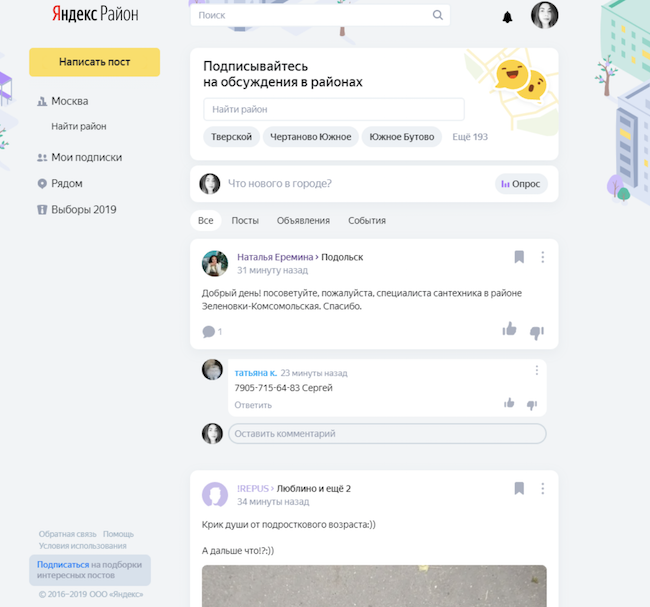 In Yandeks.Rayone can post offers, special offers, discounts and the important news of your delivery.
For a local business, submit your site - one of the key methods of reference promotion. It's free, but require a lot of time and effort.
However, any method of promotion, even the most effective, has to work in the complex. If you are promoting a website seo submission, you lose much of the potential audience.
Blog and guest posts
Someone now thinks angrily: "Why do food delivery service blog?". To advantageous to stand out among competitors and connect occupancy guest posts on trust thematic platforms with an active link to the target site.
Guest posts will solve multiple business problems:
tell your target audience about your product with the right hand (not advertising);
attract interested visitors to your site;
to convince the reader of your competence;
improve the profile of the reference site;
help to increase brand awareness in the network.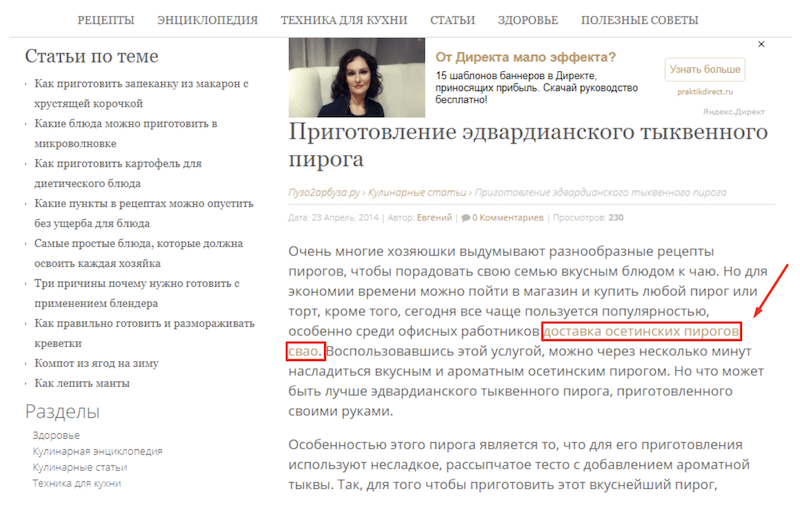 What to write and guest blog?
Nothing complicated. Just write what are good. For example, you have a delivery service of sushi and rolls. Sample topics for the blog and guest posts:
what should be the correct sushi and rolls;
how to choose high-quality soy sauce;
especially sashimi consumption;
why there is a ginger;
etc.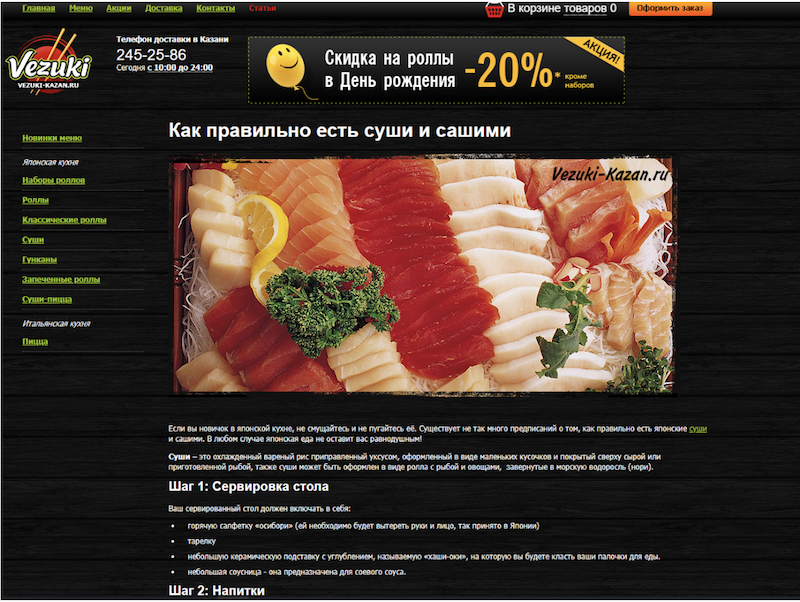 Especially for food deliveries hundreds. You can write about almost everything from culture dishes specific consumption and ending their regular supply. This will be especially useful for people who bought food for parties, romantic (and not always) dinners, get-togethers with friends and others.

Do not forget to add articles as much as possible of images and video. This will not only help in promoting (for each visual link can be assigned).
Short style of writing
Before writing a guest article, decide on who will be material. I recommend avoiding the phrase "we will tell", it is better to write from a particular person. It works much better.
Also pay attention to the style of delivery. Do not be afraid to make jokes, metaphors or write citations, use unique phrases. This will position the reader. Be sure you remember him exactly that. At the same time, be aware of the main rules of writing the text: "Less water, more useful information."
Try to draw up a short thought. One paragraph - one thought. And do not neglect the lists. Structured text read at times easier and more enjoyable.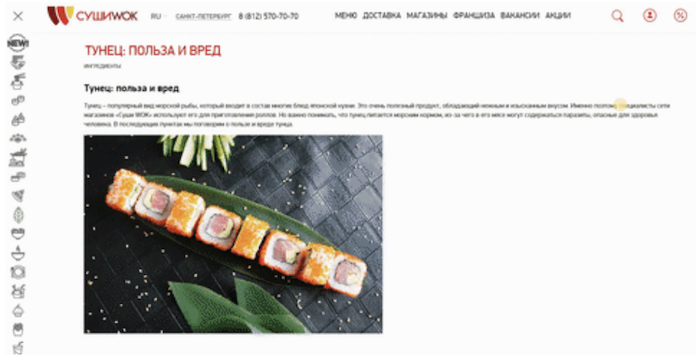 Crowd Marketing
For sites Food delivery services, Crowd marketing - an important tool for promotion. Expert comments on the forums under the thematic articles and on the websites of questions and answers will help your site:
attract motivated target audience;
safely build referential mass website;
qualitatively dilute anchor sheet;
increase awareness of the company in the network;
ensure confidence in the delivery.
Where to place the posts
Select the discussion to accommodate the expert comments in two ways:
by analysis of direct competitors;
through a search engine.
How to write posts
When writing your crowd marketing expert comments, try to stick to these rules:
write correctly;
not "pour water";
define pain the participants discuss and try to resolve them to their posts;
a link to the target site is mentioned only where it is really needed;
Before writing a post, check the relevance of the information (the presence of a particular food, promotions, valid phone number, etc.);
Use visuals (photos of food, equipment, etc., if possible.);
write only the prepared account.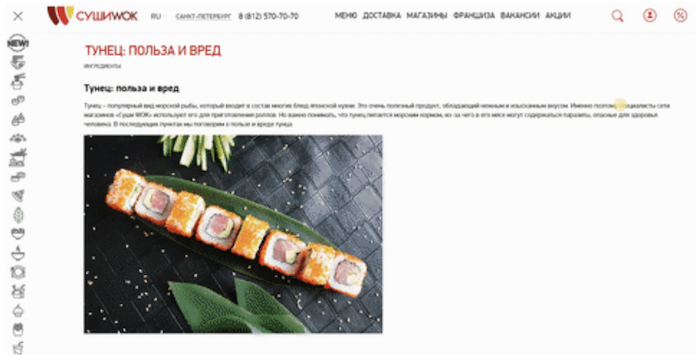 How to prepare your account
Even if you write a good post and place it in the right discussion - it does not guarantee that it will not be spamnym and avoid removing the moderators. What to do?
Before you post comment, citing an expert, you need to thoroughly prepare the account from which will be placed:
list the name of the author's last name or nickname (you can use generators https://nick-name.ru/generat or http://freegenerator.ru/fio );
upload a photo or picture to your account (you can use the photo stock https://www.pexels.com , https://unsplash.com/ or search);
completely fill out the form (date of birth, place of residence, hobbies, occupation, etc.);
Write at least 15 posts on different topics;
Wait 2 weeks before placing the target post.
How to implement Marketing Crowd
There are three ways to implement your crowd marketing campaign:
"Hand made". You are always free to register an account, prepare it and place expert commentary. However, if you do well, very young food delivery service and need some references. But then it will take a lot of time and effort.
Freelance. Now a lot of freelance exchanges on which artists are taken for any order with enthusiasm. This method is simple, inexpensive, but it is doubtful. It is very difficult to track the effectiveness of such a campaign. Be prepared for the fact that not everyone will like the features of your freelance services and will write a truly expert positions, rather than the usual shoddy reviews.
Outsourcing. The most optimal option, but not the most economical. A good outsourcing company approaches each client individually, developing a strategy and provides a high-quality implementation. The main thing to choose the right company and pre-planned budget on full occupancy.
If you do decide to take up the promotion of your crowd marketing yourself, then you can go through a free course from Igor Mine, gdepodrobno describes linkbildinge, Crowd marketing, working with otzovikami and forums. 18 expert lessons as simple language, without unnecessary terminology and water. The average length of a single video lesson 7 minutes.
conclusion
Moving in local search, always remember that you need to approach linkbildingu comprehensively, thoroughly and work with him on a regular basis. Never stop. As long as you "rest" for another 10-20 Food delivery services market appears to be more agile and able to overtake you.
And, of course, do not forget about the top competitors, which have been steadily increasing links, guided by the rule: "It is important to get to the top and keep it!".
Good luck!