Webmasters, editors and bloggers already fed up with the monotonous letters requesting placement of links, articles, references. Media outreach is not in place, so it's time to get acquainted with new techniques.
Comparing the outreach strategy of marketing representatives of domestic and foreign counterparts, the team ePochta ㅡ-developer of software for cold email newsletters, offers experimental outreach tactics. How to achieve 100% open letters and the responses to them, read the article.
What is media outreach
Media outreach (with English an outreach -. Coverage) - a method linkbildinga who is reaching out to bloggers, journalists and webmasters.
The purpose of the media outreach:
authoritative publication on platforms (with or without link);
exchange links;
advertising banner.
Mistakes to Avoid in outreach-strategy:
1. Ignore technical progress
The success of your efforts in outreach depends on the number of emails that you send every day, as well as the relevance of the collected base. Both factors are equally important.
In an era of IT newsletter do manually - mauvais ton. And if you do not mind the time spent, then why not teach the old carrier pigeon? This letter certainly notice.
But why split hairs if there are programs and services that will not only speed up the search for the recipients, but also help to immediately establish a productive dialogue with them.
Let us assume that you already have a list of websites on which you want to link. It remains only to find email their representatives. You can do this manually or automatically using a program to collect e-mail addresses on the Internet.
Note the calculations: automating the process, you remove email addresses from hundreds of sites on the keyword or URL-address in 5-10 minutes. But the manual search without the help of the programs will take at least an hour.
2. Lying
"Hello! I am very long time to read your blog and I like it. I especially liked your recent article. " You know yourself?


We learned. Most of the "fans" of the blog, which bind to our customer, have not read a single article.
It is quite easy to check: usually content managers monitor the comments below the article, huskies and repost on social networks. Thus, they are easy to detect any lie. This has a negative impact on the response, even if your offer is good.
If you like someone's work, prove it. Or tell lies convincing. For example, mention the article topic that you were impressed.
3. Asking too much
Nobody likes extra work. Think twice about what you're asking for in the text of the letter.
Our content managers often get messages like the following:


It seems quite normal.
But no.
Usually the editor or webmaster gets 30-100 emails per day. You ask them to read, analyze, and provide feedback on your article. Why do they spend time reading, if the author did not even try to find out the interests of blog subscribers?
How to avoid this mistake:
Browse through the categories of the site, analyze readers' preferences Laika, comments and posts on social networks in order to offer an article with practical value. And the editor and the reader will be satisfied with such a manifestation of care.
Specify a list of reasons why the article will be interesting for the audience of the blog.
Here are examples of errors when marketers are asking too much:
"Look at my video and tell me if you liked it."
"Look at the possibility of my service and tell them whether they should share with your audience"
"I want to write an article for your blog. Please send the theme you'd like to see on the blog. "
It's annoying.
Before you send a letter, you should know:
audience of the website from which you want to get a link,
Topics that there have already been published.
4. Do not be interested in the destination
Typically, the conversion rate of "cold" mailings is about 5-10% . So you need to send 1000 letters to get 50-100 links (and this is the best). How to increase the number of links? Preheat the audience!
Like all the attention. Think about how to show that you are really familiar with the interests of readers of the blog.
Watch for a blogger or brand in social networks, comment on posts. Thus, you get their location. Webmasters, bloggers, editors will be located to your offer. The rest depends on how well you use this information in the text of the first letter.
Contact with the target audience: email, social networks, instant messengers
72% of consumers prefer to work on the issues they have written an e-mail. But this does not mean that you can ignore completely the possibility of other communication channels. Social networks, for example.
Limited to email, you miss an opportunity to be seen. Think about it in numbers: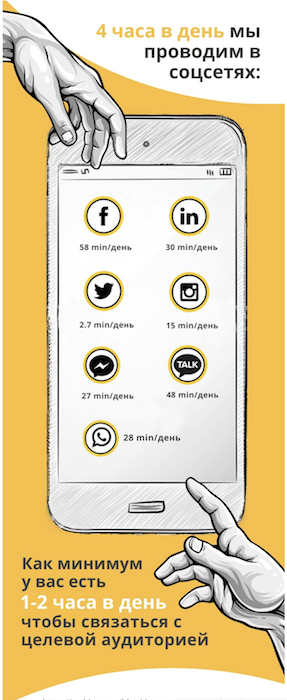 People spend 11 hours a week, checking your incoming messages every 2-3 hours . This means that they filter e-mail and choose only attractive headlines.
Using only one email, you only have 1-2 minutes a day to draw the attention of webmasters. Why not increase the time, declared itself in instant messengers, or in social networks?
But be careful, outreach on social networks has its own specifics.
How to warm up cold lead with the help of outreach on social networks
Create a table, which will make all of the data on the grounds of the potential recipient: social networks, website theme the last post and articles.
Here is an example of such a table:


Add to the list a number of new fields, for example, groups in which the recipient is, position.
Engage with your target audience. How do you react to the stranger's request to read his book and give feedback on the site? Certainly skeptical. Your potential customers are of the same opinion. To avoid embarrassment, and increase the chances of obtaining the desired, it is necessary to become familiar to the recipient.
How to do it:
Find bloggers, opinion leaders in your industry on Twitter, retweet, comment and laykat their positions, to mention them in their publications.
Do the same with their posts to LinkedIn or Facebook.
Share content and discuss topics in groups where your target audience is active.
Assume that the person you want, is the page on LinkedIn. To get his attention, you can do the following:
View profile. He'll see your name in the notification list.
Add them as a friend by writing personalized invitation: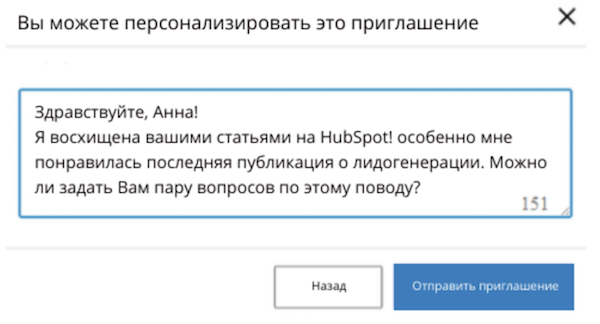 Send a thank you message as soon as he accepts the invitation.
Comment publication.
Start a LinkedIn group of which he is.
Following this tactic, you provided recognition. When you send a letter, the opening of a chance to increase due to the fact that your name has become familiar to the recipient.
Example: Suppose you have an email list with the names of the groups and the positions in which their owners have shared on LinkedIn or Facebook.
Download this table in one of the programs for mass mailing email. Then, create a personalized letter to your audience and start mailing.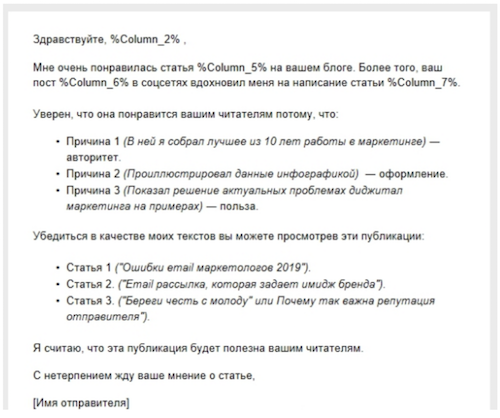 Email-outreach requires 100% unique. You can personalize the letter by hand by typing each letter individually, or paste in a text field, which will substitute for information from each contact of the table automatically.

Do not write a personal message in Facebook, LinkedIn, Instagram, VKontakte. It's annoying.
For example, a message that has recently received our copywriter Irina in LinkedIn: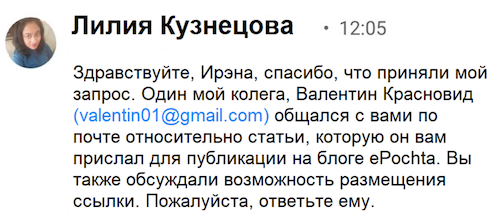 In social media, we heated the lead huskies and commentary (maximum greeting message), email to send a specific proposal.
Template text outreach mailing: traditional or non-traditional?
There is a list of standard rules for creating the "ideal" letter:
Be concise and honest
Clearly state the purpose of
Specify arguments why offer valuable
Add CTA
Usually it works. But to stand out from the crowd and get the answer, you have to be creative. It is necessary to clearly state all to impress the recipient and your message.
Here is a sample letter template, which receives every second webmaster:
Hello [name], I am writing to you because it is interested in cooperation on the basis of a guest posting.
Based on my work, I'm sure your readers will appreciate these articles:
[The idea zagolovka№1] [short description]
[The idea zagolovka№2] [short description]
[The idea zagolovka№3] [short description]
To make sure that my style and quality of writing is right for you, you can read my last guest post for [Link to Post]
Whether these ideas fit for your site?
With respect,
[Name and title]
Boring.
It works. But the editors, opinion leaders, bloggers have read hundreds of such letters. Such a text does not help you stand out. Try adding emotion.
Unusual ideas for email-mailing media outreach
We are talking about a negative response. We are all human, and a bad day could also affect the decision on your issue. Having been refused, wait a day and remind myself unobtrusive message to meme. Chances are good that it will not only increase the recipient's mood, but also to change its decision.
Example: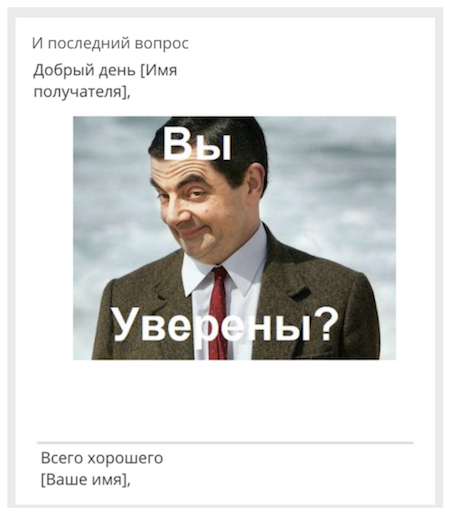 Do not forget to apologize
Let's say you're late for a planned to phone or chat. Of course, your partner will be upset. Moreover, this lack of respect. Do not do like this.
But if it does happen, you have to be convincing in his repentance. Here's how you can affect the recipient's mood after such a blunder: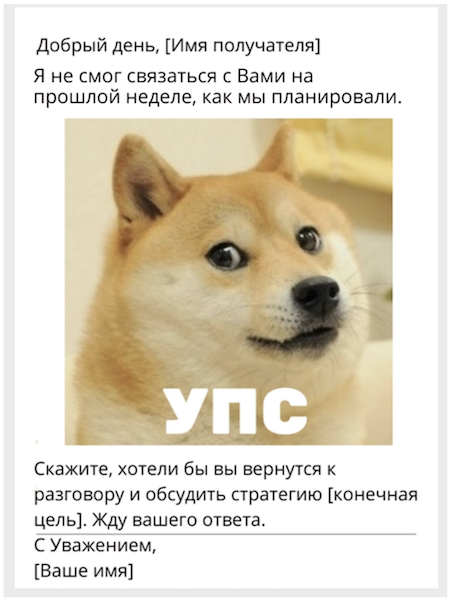 "Hello! There are some news about my question? »─ not the only way to remind yourself.
You'll be surprised at how good joke can change the position of the recipient to you and nature conversation.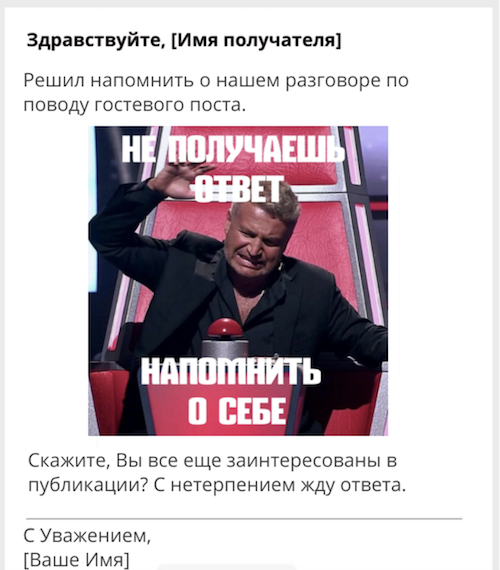 Sometimes uncomfortable can play in your favor. From the point of view of official correspondence, it sounds quite doubtful.
Imagine the situation. You write a message, but made a mistake. All email sent to remove is no longer possible, but you can beat the situation and to translate it into a joke.
Here's an example: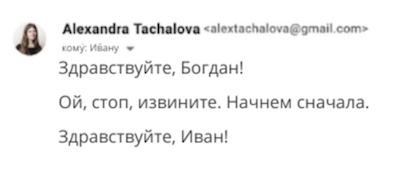 Such letters prove that they sent to a real person, not a program.
Media autrich─ is talking to people who are tired of standard monotonous messages. Make your letter friendly and cheerful.
5 best tools for media outreach
1. ePochta Studio ─ is a set of programs designed to communicate with the target audience by email.
Using six built-in tools, you can:
compile a list of email addresses keyword or the URL-addresses of web sites,
check and segment your contact list,
send potential clients a personalized e-mails without leaving the program.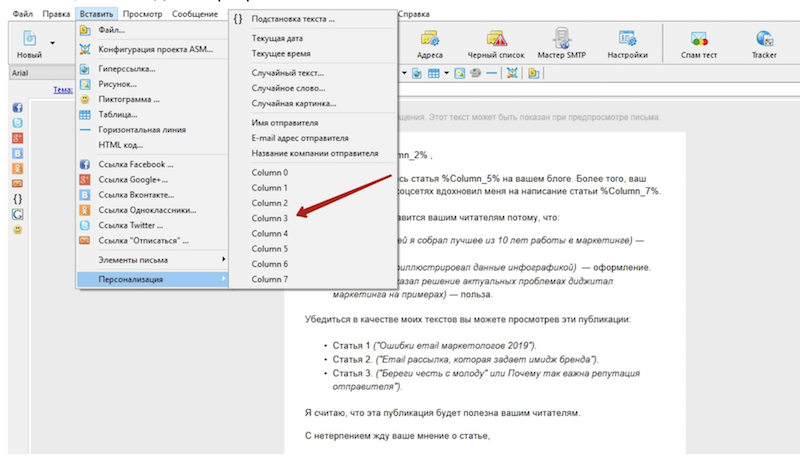 Function «spin text», which is to add personal information to the text, make your newsletter is 100% personalized and Email Tracker will show the success of your campaigns.
2. Ahrefs more as part of SEO. However, when we talk about outreach, this service is required. With it, you can find relevant sites with high traffic to host links.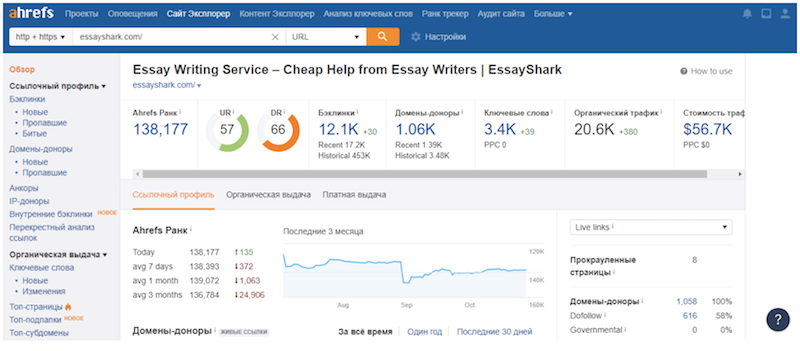 3. BuzzSumo
Useful for those who are looking for inspiration to create the content. With it, you will also find opinion leaders in social networks and popular sites in your niche. You learn what content is interesting and your recipients will be able to formulate a topic that will hook their attention.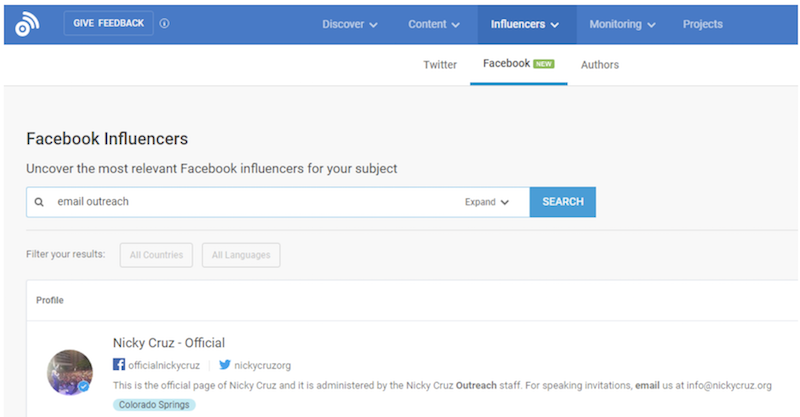 4. Service FindThatLead help in finding email audience. The service can be found check lists and immediately launch a mass mailing.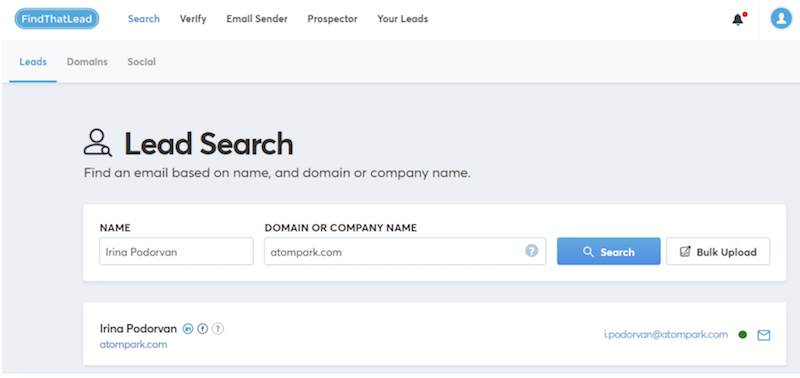 5. the Ninja Outreach is good to find opinion leaders and the most popular content. You can put together a website and a list of potential recipients by keywords. Moreover, when you will find all the necessary metrics to evaluate the site and editor of email messages to create and send letters without leaving the service.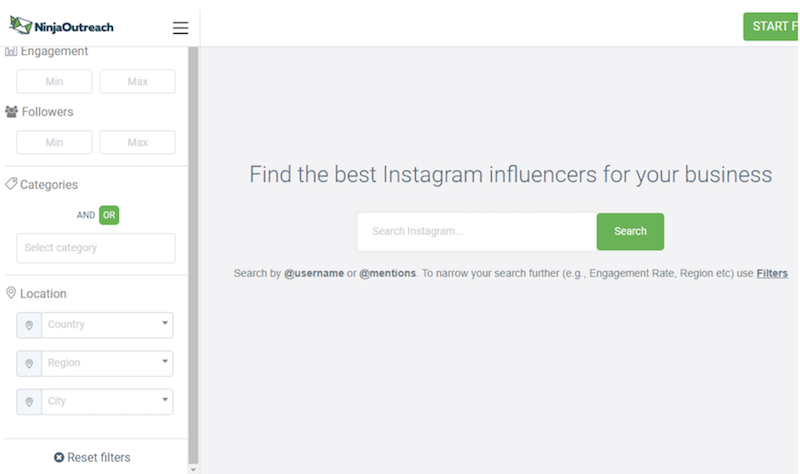 To summarize, the possibility of instruments:

conclusion
The simple truth outreach mailings: opened - not to respond. Even turning to the right people, you do not always get a response. Much depends on how compelling your letter.
The success of the outreach campaign consists of 6 steps:
Search email adresses addresses of potential recipients.
Attracting their attention to social networks and blogs.
Create a table with key data for personalization.
Writing 100% unique letters.
Launch of a mass mailing.
Evaluation of the results.
Good luck!