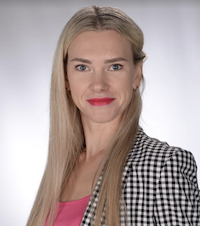 Author: Elena Chervonets, contextual advertising specialist , more than 11 years in digital-marketing, authorized partner of Yandex Direct and Google ads.
In any business there is competition. And no wonder, that in contextual advertising has such tactics as targeting competitors. The basic idea is that the brand needs and trade names used by competitors as keywords, which allows you to advertise your business and offer an alternative product or service, whenever a user searches for a competitor in the search.
The launch of such advertising by competitors - a tape measure. Why? Because you can never know exactly whether the search query by line information or navigation. While the information request means that the user just looking for information, navigation means that he wants to visit a particular website.
Consider this example: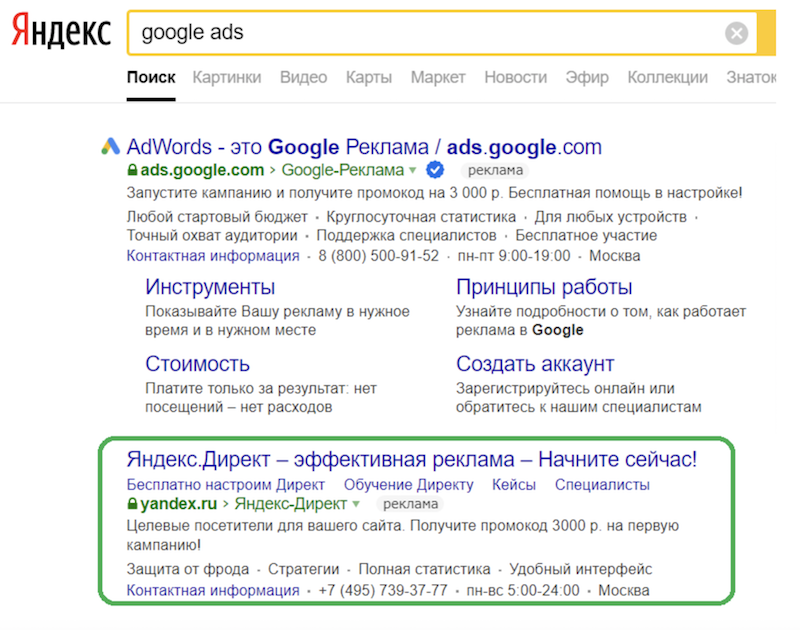 It is possible that the user who is looking for «google ads», recently heard about advertising on Google and decided to use search to find more information. If so, the competitive advertising Yandex may be quite appropriate, because the user is not fully committed to the Google Ads for Yandex is a great opportunity to present itself as an alternative solution.
However, it is also possible that the user is already a customer of Google ADS and just use the search to go to the company's website (by the way I so often do). In this case, the Yandex.Direct virtually no chance to entice the user to click and make a purchase.
This brings us to another important point: if you decide to advertise for competitive queries, you do not need to worry because of low performance. Since many branded queries focused on navigational queries, it is likely that the CTR of the keyword and your Quality Score will be below average. In addition, the fact that you can not use competitors' brand names in their texts, reduces the relevance of your ads. And that's OK! Although in general the need to strive for high-quality performance, it is really impossible if you run advertising by brand competitors.
However, if you focus on writing compelling ads that will draw the attention of users with information requests, it is worth it.
This tactic can give very good results in 2 cases:
You work in a niche where a potential customer for a long time contemplating the purchase by comparing different offers;
Your suggestion is so unique and attractive that a potential customer is required to pay attention to you, despite the fact that already use the services of a competitor.
In other cases, targeting competitors brands may be unprofitable.
In this article we will discuss the most effective ways of targeting competitors.
Targeting keyword search
Customize. Putting brand queries by competitors. Set them as keywords. In this case, we have to approach the writing of advertisements elegantly and creatively. At the same time remember the three basic rules of writing for targeting ads to competitors:
Tell us in the announcement of your unique selling advantage. What are you better than the competition? Your proposal should stand out from competitors';
You can not use someone else's brand name in the text of their ads;
Think of the legal and elegant way to use the word of the brand in its title (if possible).
Here is an example of good ads for competitors: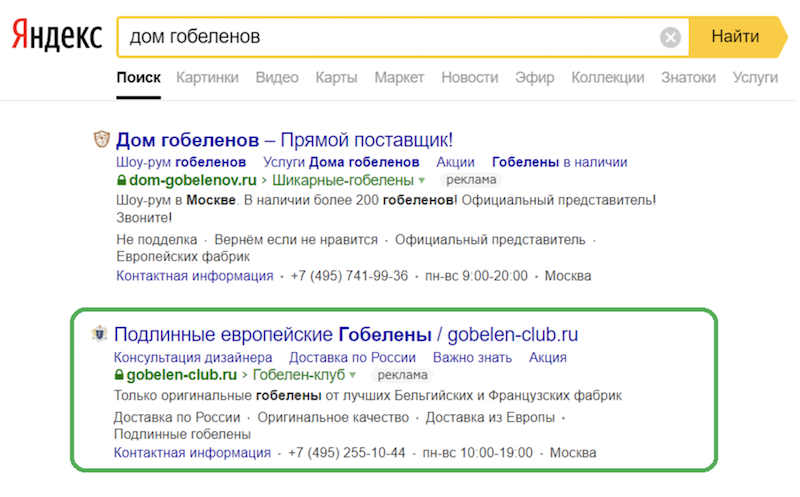 Why is it good
Tapestry club in the first title's emphasis on the fact that they only authentic tapestries. This is a good USP;
They were able to use the title of the keyword, which gave them an opportunity to highlight it.
Here's a good example: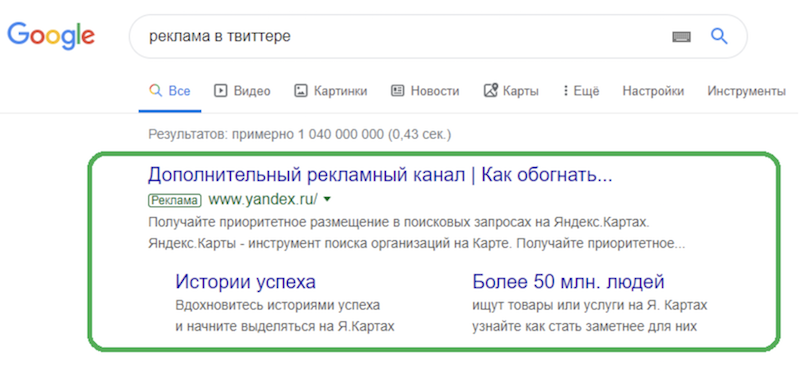 Yandex positions itself as a further advertising channel. This is a good move. Think about what you can offer the customers of competitors, if you are working in a related niche. Do not tell yourself, tell us how you decide to customer problems.
Here is an example of bad ad: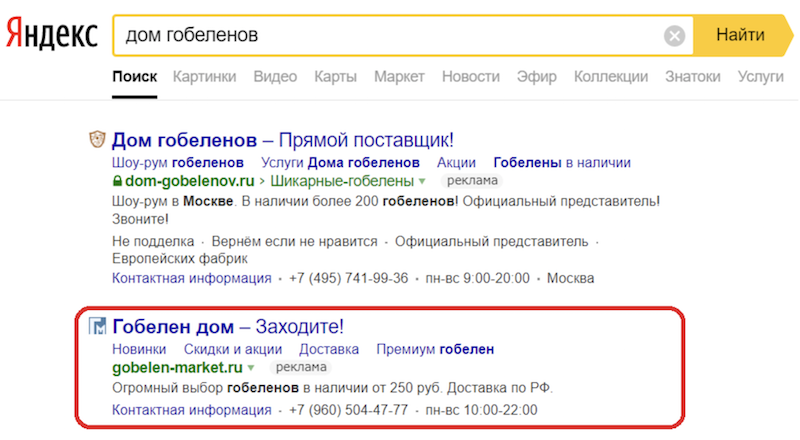 Why is it bad
There is no competitive advantage. It is not clear why we should "go" to the store;
Obviously, the expert on advertising have not figured out that Arras House sells exclusive expensive tapestries, so offer cheap tapestries from 250 rubles for clients such stores is inexpedient;
Using Branded request is prohibited in the header. Here it is tried to hide by changing the words in some places, but it is unlikely that any progress will increase the efficiency of the advertising creative.
How else can you stand out from competitors (foreign companies as examples):
Specify the title of real value to the customer's advantage. As an example, in this example 2movers company it indicates that the move is not necessary to rent a truck: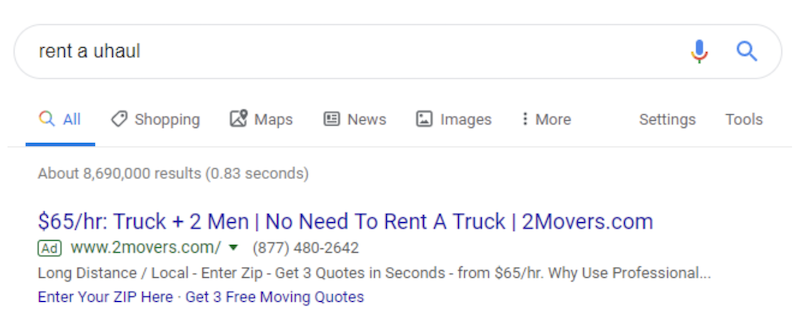 Use powerful trigger - curiosity. As in this example where Tuft & Needle successfully utilize the power of mystery in this its advertising. Stating that they know the "truth" about the mattresses Casper and implying that it has something to do with the price of their mattresses. With such a reception Tuft & Needle do their advertising is infinitely more compelling: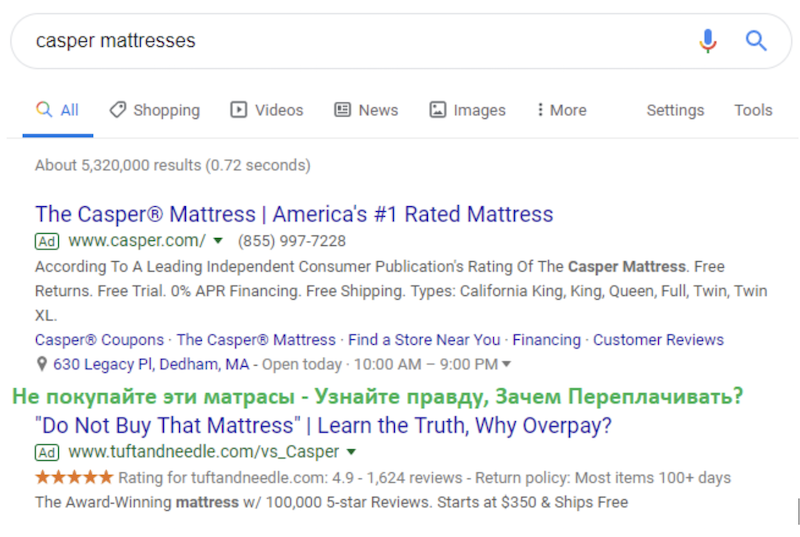 Here's another example of curiosity. Just as Tuft & Needle, Asana team uses the same trigger: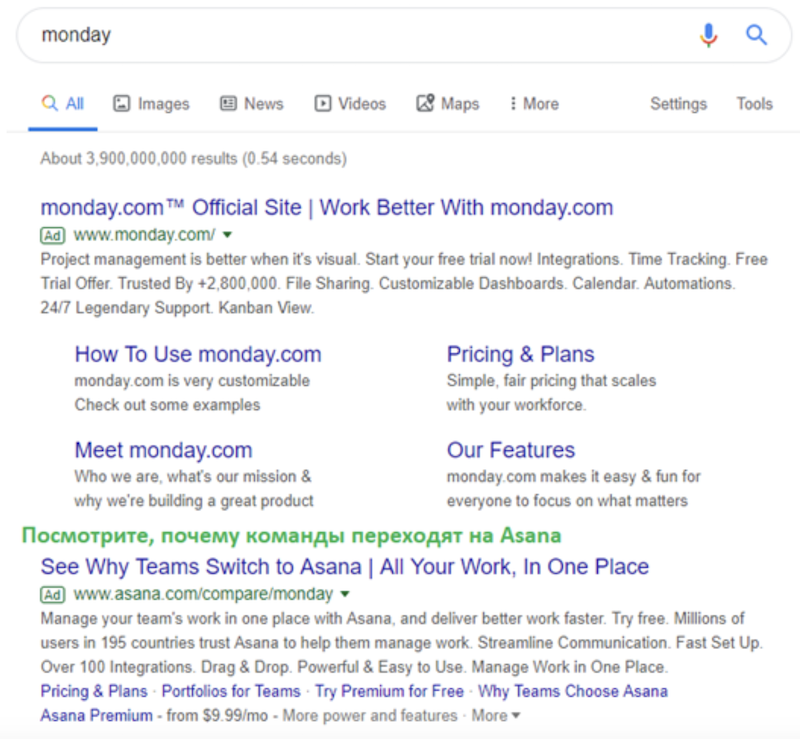 It is one thing to simply state that the commands are transferred from Monday.com at Asana. Another thing - to invite users to visit Asana website and find out why this is happening. Professionals who have just begun to study the issue, the ad can have a huge impact.
Also note that once Asana gives a competitive advantage - "All of your work in one place." And it sounds much better than Monday.com proposal "Work better with Monday.com». Asana copywriters know exactly what their target audience is looking for a solution that will help them become more organized and actively use it when writing your texts. It should take note.
Advertise your limited-time promotion. For example, some super sales, incredible discounts confined to certain days. As did Pep Boys, pointing to the limited time offer "Buy 3 tires 4 as a gift":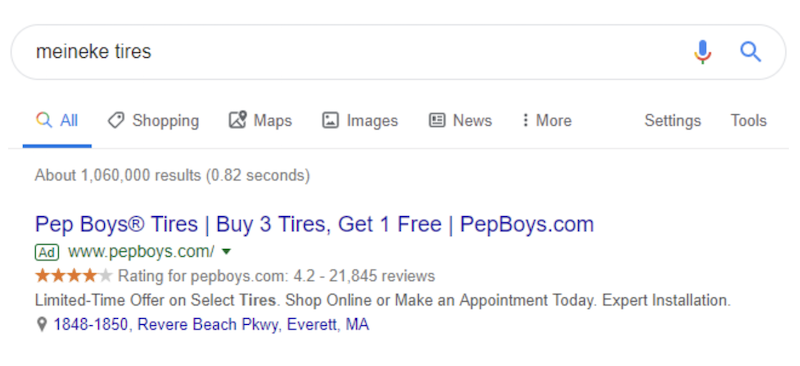 Display targeting or keyword YAN

In addition to using branded search queries, we can use to target networks.
Setting YAN. Create a bright creatives of which clearly and precisely clear what differentiates you from your competitors. Since your potential customer already searched your competitors' sites, he probably already knows enough about your product or service. You can only tell you what is best. Describe your unique offer. Tell us why we should choose you. Emphasizes in its creativity on this.
Setting the Display Network. Target with your own affinity audiences or their own audience on the intentions of using branded key requests of your competitors. Remember that you can show your ads in the Google Display Network and on YouTube. When you create creatives in mind that the audience is already familiar with your competitors, know about your product / service. Engage it with his creative suggestion or tell us about your actions (special offer). Is focusing on the creativity of the advertising text and a bright memorable visualization.
Behavioral targeting polygons

This is another interesting way to povzaimodeystvovat with the audience of its competitors. Suppose your competitors - it's pizza chain. With Yandex audience and Polygons to create an audience by marking the building where pizzerias are competitors. Next, create creatives with the offer or action and set the target to create an audience.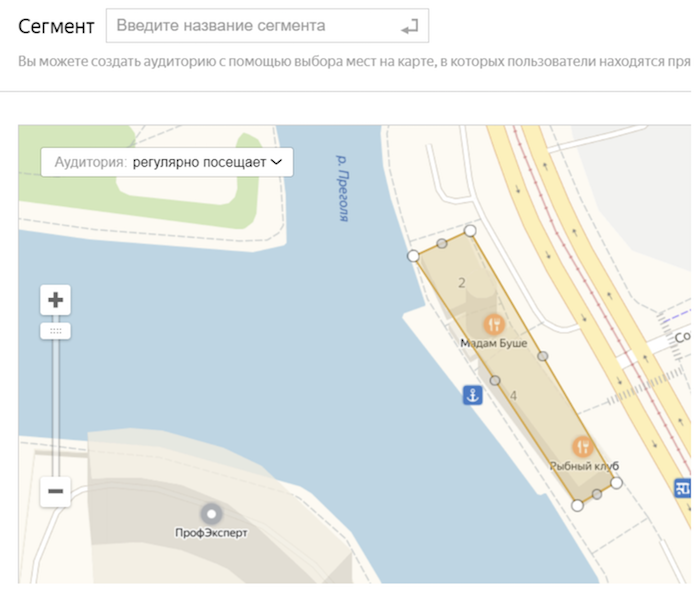 Targeting competitors. Findings:
As you can see by reading this article, running ads on the competitors, you can move in several directions. The success of your ads depends on what type of customer you are trying to address and what kind of product or service to promote.
However, there is a universal solution: the best ads of competitors - those that are closely related to the user's intentions and have a compelling ad copy. If you write ads that correspond to what the user is trying to solve the problem and give them a good reason to click, you will succeed.
Successful your advertising campaigns!