Yandex presented a draft of a new headquarters in the Gagarin district of Moscow. The building will be located on the site of the hotel "Korston". The unusual silhouette and a facade decorated with titanium panels will make a new home Yandex local landmark, and through diagonal passage will connect the building with the surrounding space.
The territory of the headquarters and the first two floors will be open to all. On the lower floors will work cafes, pharmacies, beauty salons and other organizations, and the public space will be around the office, where anyone can relax, have a meal or exercise. Yandex also prosper large area near the headquarters: between the streets of Academician Zelinsky and Academician Zeldovich appear green park, which is perfect for outdoor activities.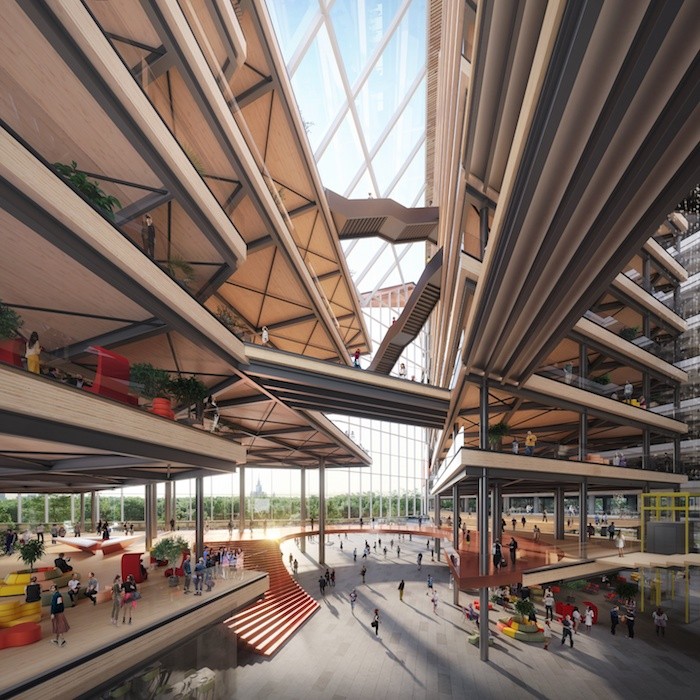 New home Yandex will be technologically advanced and comfortable for the building. It is designed so that people feel comfortable working together regardless of where they are. For example, in the office will be a lot of small peregovorok for meetings with colleagues who work remotely. For employees provided canteens, coffee shops, gyms and swimming pool, and a rooftop terrace.
The building is neatly inscribed in the architectural appearance of the Gagarin district and is comparable to the maximum height of the "Korston", the height of the wings will be different: the closer to homes, the lower. When designing team of architects is particularly attentive to the environment, because Gagarin district means a lot to Yandex. There have grown up and live many employees here work the leading research institutes in Moscow, and even right here once the company's history began. Yandex first office was also in Gagarin, in the building of the Computing Center at the Vavilov.
Yandex employees can get to work on foot, on bikes or by free shuttle bus from the metro station "University", "Leninsky Prospect" and CIP station "Gagarin Square." Use these buses will be able to attend. For those who come to the office by car, it will be arranged in a multi-level underground parking, and the parking of the vehicles will take Yandeks.Drayva - not only for employees but also for the local residents.
Dismantling of the hotel building "Korston" will begin before the end of 2020, the construction - after approval of the project documentation and obtaining the relevant permits.
Recall Yandex signed a binding agreement to purchase the site for a new office in Moscow in December 2018. the purchase price was approximately $ 145 million excluding VAT.