During 2019 the number of advertisers who place video ads in Yandex, increased by almost four times. Self-isolation has spurred growth: according to the company, media content consumption, including in the areas YAN increased sharply in March, and this in turn led to the growth of the advertising video network capacity Yandex .
Therefore, Yandex has added several new tools for sites that give an opportunity to increase revenue from video.
Among them, Video Ads SDK - universal library for placing video advertising on integration through through which advertising network passed this spring, no longer support the integration of VAST-tags.
Video Ads SDK library works "out of the box" and gives partners the opportunity to save on development: no longer need to maintain the relevance of the advertising video player, to make all the new changes to the code and constantly check for updates IAB specifications - Integrated advertising module will do this automatically. The main advantages of Video Ads SDK:
Correct operation and full support in the functional video YAN.
Seamless integration with and support ADFOX Header Bidding.
Reduction of technical losses and advanced analytics by working in a single technological ecosystem.
Possibility to show creatives from other advertising systems that meet IAB standards. (Vast and vpaid)
Optimal playback quality.
View all the latest formats and technically sophisticated creatives. For example, c Video Ads SDK works new overlay format (which will be discussed below).
Depending on whether you own the video player platform, but also on where the video ad will be placed - on the mobile or desktop versions of sites, apps - there are different options for the use of Video Ads SDK, and different integration options.
A detailed description of integration and video instructions can be found on the page of the SDK Ads the Video .
Also, for sites with video content Overlay, a new format - the new ad unit for additional monetization. It allows you to display advertisements on top of video during playback and increase revenue YAN partner. According to internal data, the income of sites participating in the testing of overlay, increased by 9% on average.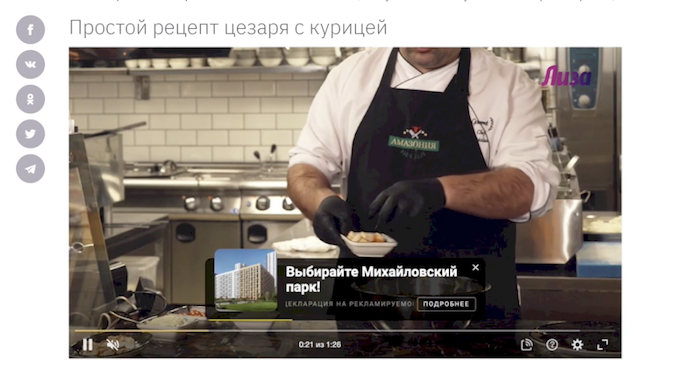 To connect Overlay require integration with Yandex Video Ads SDK. With the help of the module AdLoader you can download and play the video ads on top. You can choose to enable and configure the format in YAN interface, or contact your manager YAN if need assistance.
For sites that sell advertising space directly for InStream and OutStream through AdFox, appeared at Yandex free CDN (Content Delivery Network).
CDN allows you to save on video storage and takes care of its delivery to the user in the right form. Through the interface ADFOX now can upload videos up to 100 MB in MP4, WebM, MOV, QT, FLV or AVI. The system automatically converts videokreativy in different formats and resolution and then outputs the appropriate variant depending on the speed and bandwidth of the user.
To connect a CDN, you must fill out a short form . Then it will be necessary to add a template for video with support for multi-format video and download it to a commercial. The video file is converted automatically and show the user the player will choose the best format depending on the channel, and browser.

Also it is possible to transmit video link from an external resource, but in this case the movie does not start on the video hosting Yandex will appear in the form in which it is available here.
Recall that in mid-April, RTB-YAN blocks and dimensionless units ADFOX learned to support video ads in the same auction with contextual and display ads. This change makes the RTB-block full replacement InPage blocks.