In early June, at the service of delivering products Yandeks.Lavka icon will appear. In its basis - metaphoric image packaging which is opened to eat something delicious.
The shop appeared a year ago as a restaurant in Yandeks.Eda application. It was a quick decision, which does not require separate branding. But now Yandeks.Lavka grew, became a full service, and it needs its own Identity.
Before the advent of a new sign in the shop of used images, price lists labels, which did not have a stable system: they were of different shapes, colors, painted in different styles. Therefore, in the list of services Yandex shop was one image in social networks - with another, and in advertising - the text logo. To solve this problem, you need to develop the Identity and designers have begun to do this by creating a brand-mark icon.
When people order food from restaurants, they interact with the images themselves of food, and as a result of their own and receive. With all goods in the shop in another way: they are selected among a plurality of packages of different shapes, colors and sizes. With them, the buyer reacts when it receives the order to get it out of the bag, unwraps products. Therefore, the packaging - an independent emotional image that is associated with the discovery of something new and delicious. He was a key for the service icons: it resembles a sticker on the Mandarin, the foil from the yogurt label, which does not fall out of the croissant rustling paper bags.
According to the designers Yandex, they have created an icon that corresponds to the nature of shop: delicate, friendly and modern. It stands up well in a row of icons other services Yandex, but still stands out due to "a little playful tilt."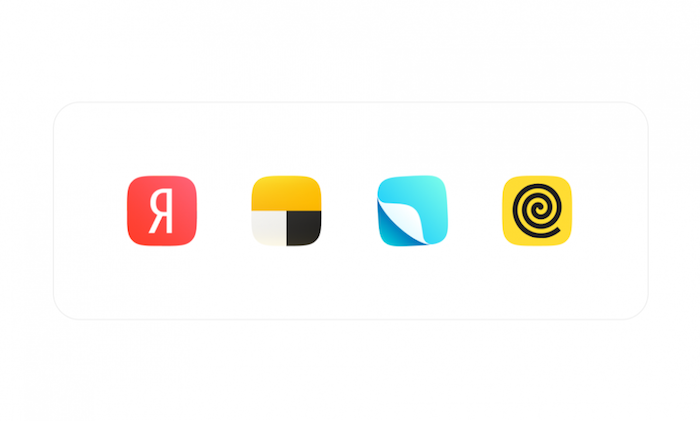 Icon is only the beginning in the creation of their own Yandeks.Lavki of identity, the development of which is conducted by designers Yandex.
Recall that in late February, analysts of Sberbank CIB for the first time estimated the cost of the service, to predict that by the end of 2020 Yandeks.Lavka receive revenues of 9.6 billion rubles, and its cost can reach $ 303 million.
In mid-May Yandeks.Lavka was the clock and started to carry out express delivery of food at night.