Association of Communications Agencies of Russia (ACAR) continues to investigate the impact of a pandemic Covid-19 on the advertising market.
According to the study the influence of the coronavirus in the advertising market in May this year, 64% of advertising agencies say the deterioration of the situation. In this case, already 87% of the companies are faced with the cancellation, reduction and transfer of advertising budgets at a later date.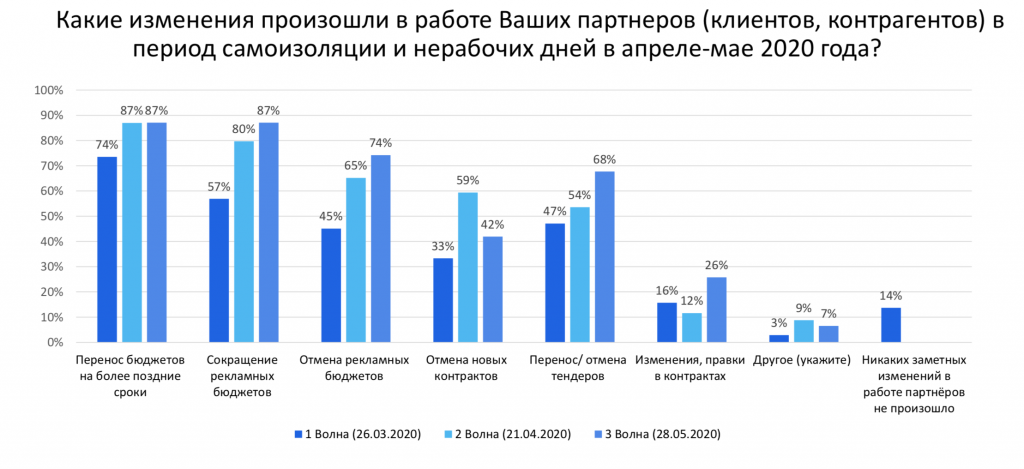 As compared to the previous studies, in May on the market are almost no people who idle: the percentage fell from 56% to 6%. Players realized protracted nature of the crisis, therefore, continue to reduce costs.
In this case, the trend is towards greater reduction of staff and salaries in the companies: in March due to lower salaries acted as 14% of the costs of the respondents, in April, this figure reached 43%, and in May - 54%. In favor of the dismissal of employees in May voted 33% of companies, while in April it was thought only 21%.
Against the background of the mass cancellation and transfer of advertising budgets of clients, agencies began to notice that there was more difficult when working in a remote format. The number of companies claim that they are experiencing difficulties when working outside the office, dropped by 18 percentage points (from 27% to 9%). 56% faced with difficulties document. For 34% of relevant problems with personal communication within the team, as well as interaction with counterparties. One of the major problems was the inability of many employees to allocate an isolated workplace and to break away from household chores.
Still, the crisis has brought some positive changes. According to this study 50% of respondents have been able to reduce their costs, from which it was difficult to get rid of the past. Almost 40% of companies continue to introduce new technologies in the business, and 32% said improving the efficiency of the company.
More than half of companies believe that the maximum negative impact of the pandemic on the Russian advertising market is still ahead. In other words, 64% of respondents believe that we have not yet reached the "bottom". 18% hold the opposite opinion, they believe that it is now the peak of the negative impact on the market coronavirus. And only 7% of the agency believes that the maximum negative impact of the back, the "bottom" has been passed, the situation is stabilized, the market is growing.
Note that according to the report ACAR for the first quarter 2020, the growth of online advertising has slowed by half , remained at the level indicators I quarter of 2019, called for absolute anti-advertising market.