Author: Aquila DeFazio (Akvile DeFazio) - president of the digital-agency AKvertise.
At that time, as the world is experiencing a global crisis, its effects felt by many companies, and digital-agency - is no exception. But this does not mean that the agency remained without any options. They are already showing incredible creativity, changing their strategy, services and management in order to survive the pandemic COVID-19.
In this article we will look at the strategies that will help retain customers and to keep the company at the time of koronakrizisa. We will talk about how to:
best to help customers
improve communications
support staff working from home
change focus
These tips will be useful not only agencies, but also freelancers.
Retention strategies for the digital-agencies
Times are certainly tough, but instead to look at the negative effects and the potential for, focus on new challenges with optimism and creativity. As agency owners and managers to work with clients, we have got used to the changes. On the market there are new platforms and placement strategies are changing, and testing and optimization does not stop.
Add to this mix of current events and think with their teams and clients, as one can not only stay afloat, but to move forward.
1. Save and survives
The biggest factor in customer retention for us and many other agencies are effective communication, flexibility, empathy and understanding.
In recent weeks, we almost lost two of its largest customers, but were able to keep them. We offered them alternative options for campaigns, budgets, tactics and recommendations on how they can change their message across.
We will also brainstorm on how they can optimize their production activity to remain on the market.
Through these discussions and changes, both companies were our clients. And although one of them is a little reduced its advertising spending, the other - left them at the same level. They realized that if they back out now, it can be a downward spiral for their business, and then we lose them anyway.
It is important to understand that it is now it is not just the survival of us as agencies and keeping our jobs. We also need to help our customers survive.
Think of it as a team game where the enemy is time, and other variables are unknown, but we are all in the same boat.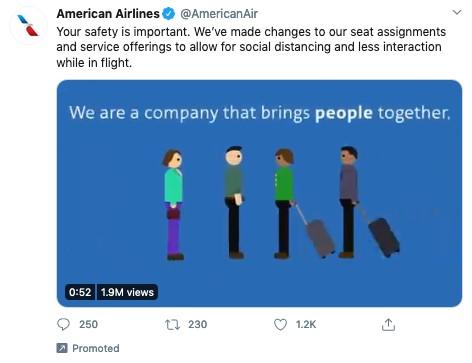 While we are pleased that we were able to keep their customers, we understand that in the coming weeks, this may change, so we are not sitting idle.
We heard that other agencies have lost some customers - especially those industries that are most affected by the crisis, such as the tourist industry and the hospitality industry.
2. Be forgiving and understanding
We graciously perceived changes to the budget at the last minute, pause campaigns, delayed start and the client's request to defer payment for a couple of days.
In the current environment it is very important to maintain open communication and be more flexible than usual.
3. Put the price increase
If you are planning to increase prices in the coming months and has already announced that its customers, it may make sense to postpone these changes.
If you have already discussed the forthcoming increase in the budget with customers, and it is attached to your interest and commissions, then you can again discuss the issue with them and work out how you can support them.
4. Think outside the box
We have recently introduced the so-called "Think outside the box" day and schedule meetings within the team and with our customers for brainstorming ideas and presentations. We are considering a variety of ideas that can help us to stand out among other companies, to attract leads and retain customers.
We consider any idea - the creation of new services, testing new channels for business development or promotion of the client's products or work in many channels to increase coverage and visibility.
While there is currently interest in testing may be minimal, the price per click on most of the channels are reduced, and the competition is reduced, so the investment in the future of your agency and your clients' business can be in your best interest, if you have the opportunity.
It is also useful to keep track of what other brands in order to stay afloat, to stay relevant and be altruistic - it gives ideas for inspiration. Here's a great example: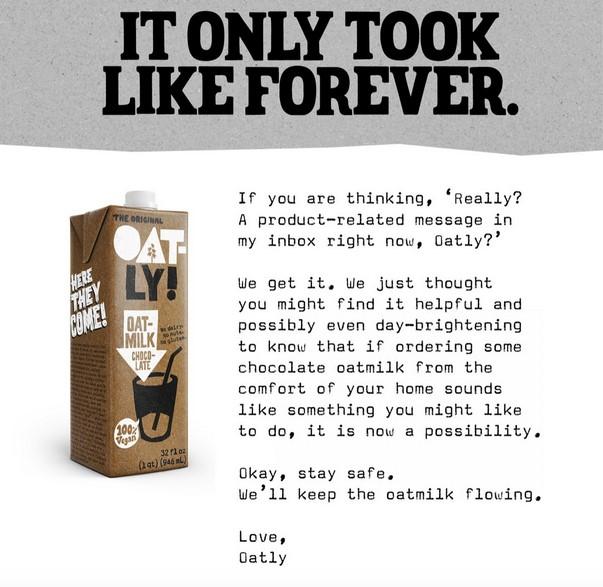 If you can, set aside some time to brainstorm on how your customers can respond to the current crisis.
5. Return to the upper part of the funnel
As an example - we started to run more campaigns for involvement, recognition, and video views on Facebook and Instagram, as they are less expensive than the campaign for the conversion, which we at the moment are not so interested.
As soon as week after week, people get used to the new way of life, we see how more and more of them are involved in the interaction with the advertising and slowly return to the purchases through these campaigns the upper level of the funnel, even if the more "heated" retargeting audiences.
If you have not yet done so, test campaign at this level in order to attract potential customers and retargeting, as this will save customers money and continue to work with them.
6. Change the focus
It is clear that we, as an agency, we want to survive. But we also want to ensure that our customers have survived. And that's what we need to focus on.
We changed our focus from active sales to customers, and how they will relate to the product / service.
It is too early to draw conclusions, but for our customers the results of such a paradigm shift look promising.
7. Communicate with customers proactively
If the performance of your agency affected epidemic coronavirus - whether the transfer of staff to the remote job or reduction in communication with clients is important to maintain proactive and communicate regularly with each of them, informing about any changes to your account.
If your agency was fortunate to avoid any changes at this time, in addition to working in remote mode, it is also important to inform customers and keep them informed. It is time for trust and cooperation.
Although personalized messages are best sent by e-mail, these issues may also be discussed during the meetings and meetings with clients.
Another way to tell customers how your company is going through a crisis - it is to add the appropriate information to the site. You can use the banner page cheder, which may also contain a link to more information - publication on a blog or a separate page.
Here's how we did it for the site of his AKvertise agency:
If the epidemic has affected the activity of your customers, advise them to do the same.
If your agency or your client's office is temporarily closed due to the epidemic, update their profile in the SERP.
8. Keep your employees working in remote mode
Remote work also requires management to maintain the team spirit, motivation and efficiency of employees.
Experts advise to organize the working day as close as possible to how it was in the office.
In terms of tools, the lower - the ones that we use internally and in working with clients:
Project Management: Trello, Basecamp, Asana
Creative Review and Collaboration: AirTable
Collaborate on documents: Google Docs
Meeting: Google Hangout, Zoom, Skype
Time Tracking: Toggl
Communication: Slack
9. Use the support from the state
Study programs that are available to support small and medium-sized businesses in your area and find out how they can be used.
Focusing on customers will help the agency survive
We do not know when will end the epidemic, but we can proactively rework their roadmaps, and helping our customers do the same. The success of our customers - the key to our success.
Good luck and stay healthy.