Author: Rand Fishkin (Rand Fishkin) - founder of Moz, co-founder and head of SparkToro.
I think that now is the time to talk about marketing in times of uncertainty, through one of which we are now going through. We obviously a global crisis. And this is very serious.
Despite this, I do not think now is the right time to stop marketing activities. In fact, I think it's time to rethink many things.
Let's talk about what's going on. Then I'll share with you some of the tactics that can be useful for you and your teams, your customers, executives and all employees with whom you are going through COVID-19 epidemic.
The impact of world events on business
Currently, the business world is feeling the effects of the actions that have been taken at the global level.
First of all, we try to prevent mass mortality, that is absolutely correct. But because of this, many of us in the business world, in the world of marketing, experience tangible difficulties, particularly in individual sectors.
Against the backdrop of an epidemic coronavirus in some industries, the demand increases rapidly, while others - falls. And we have no way to change it.
We can not go to bars, restaurants and cinemas, and to spend their time as we usually did. We do not need trendy clothes and hairstyle. And our spending on these things, too, accordingly, ceased to exist.
Lower costs -> cost reduction -> reduction of investments / downsizing -> environment in which fear reigns ...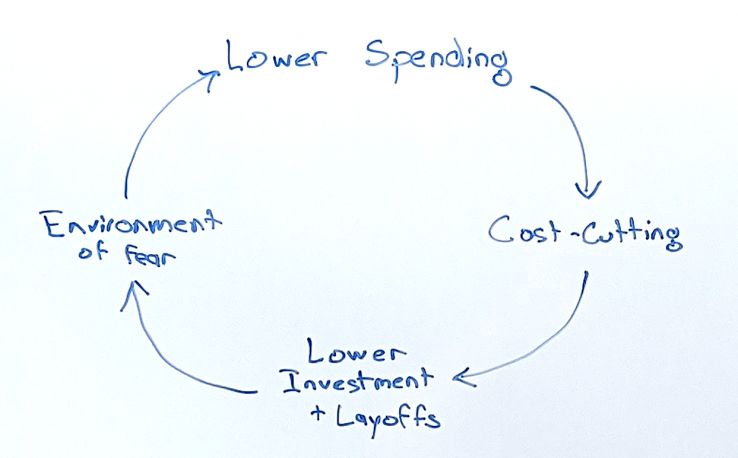 Reduced social activity leads to the fact that companies are starting to cut costs, because demand has fallen. This in turn leads to a decrease in investment and personnel reductions that we are seeing in the United States, where, according to the latest official figures, nearly 10 million people were out of work.
All this creates an atmosphere of fear. None of us are faced with something like that. What is happening now is much bigger and worse than the 2008 crisis. And of course, all of this helps to reduce costs in all areas.
It is interesting that this is not a long-term fear of what would happen. I think it is more fears that a sustained recovery may be required after the recession. Meanwhile, we know that in the end, after 3-18 months, the cost to recover and everything will return to normal. It seems to me that now is the time when marketing has to change his tone and attitude towards customers.
What to do: the three most important points
1. Cut with a scalpel, not a chainsaw
Firstly, if you are an agency or consultant and want to save, then your customers will almost certainly say, 'Where can we cut costs, but still get a return on investment? ".
And I think one of the highlights - "not to cut a chainsaw." In order not to get something like this: "Let us look at all our expenses on Google and Facebook and will reduce them to the maximum," or "Let's look at our investment in content marketing and lift them." It is unlikely that this would be the best course of action.
Instead, "cut with a scalpel": analyzes each channel and the individual segments in them to understand which of them provide a return on investment (ROI-are positive).

When it is important to consider the fact that in the past three weeks, spending was frozen, but I believe that they will recover. I think most economists would agree with that. Therefore, the stock markets have not suffered the same severe crash.
And I think we'll get to the point where people will massively to order goods and services online. They are already using this channel. When the quarantine is over, the world will go into a state of "new normality".
Therefore it is necessary to analyze the data for the last 6-12 weeks, to find out what is the trend, and that - the opportunities for growth.
Look for those channels that are ROI-positive. Analyze your account in the Google Ads, to find those keywords that continue to send valuable traffic to the site and from which you can not refuse.
It is also important to note that many experts have noticed that the price of advertising inventory to Facebook, Instagram, Twitter, YouTube and Google have dropped significantly. Therefore, if you are ROI-positive channels, it is now a good time to invest in them.
2. Invest now to get benefits during the second and third waves
Second, you can invest now to get out in the second and third wave of the crisis.
The first wave - this epidemic COVID-19, the second - the transition to life online, the third - the post-crisis period, the establishment of new rules.
You can view the publication in the Harvard Business Review and Bloomberg. Many experts recommend investing in periods of economic recession, and tell us how to do it.
The first wave of the crisis began with the news of the coronavirus and completed the transition to online life. This period will last for about 2-6 weeks more.
After testing we will conduct a thorough and make sure that the quarantine work, we move on to a new post-crisis norm.
It will be a time when the hospital system is not overloaded, and the vaccine is currently under development or already in place.
When it starts to happens, we want to message and content to meet the demand.
It is important to use all that is in our inventory, and marketing can be useful for people - not only during the epidemic, but also later. Because if we invest now in step postkrizisa we will be in a better position than our competitors, which are now reducing their activity.
Research has shown that those companies that invest in marketing during a recession tend to bypass their rivals after the market recovery.
3. Consider the realities and be more responsive
This is the most important thing right now. Currently, people pay online environment as much attention as never before. And if you are involved in internet marketing, then they pay attention to your work. Our work. This means that we should be more empathic than before.
Our audience is not thinking about the same as a few weeks ago. Now she has a different feel. No matter who is the target audience for you - businesses or ordinary consumers. Residents of all countries are now obsessed with the conditions in which we are now. And all they think about it.
I really believe that the content that you are now creating, and the marketing that you make in any channel, and on any platform - that's what makes it in the first place. It is helping other people.
For example, Getty Museum suggested users "recreate" famous paintings with the help of available funds at home.
Yes, it does not help health care professionals to get the mask. But it helps people live quarantine and interesting to spend time with their children, family and friends. This helps them to distract from thoughts about the crisis and allows to join the art at the time when museums around the world are closed. And it is wonderful!
I also think that it is possible to speak about the content or subjects that are not necessarily associated with the virus. See Web marketing now has no direct relationship to the coronavirus. And I hope that we can talk about it more carefully and empathically. We only need to think clearly and to take into account the current situation.
It's ok to admit that the crisis affects your customers and talk about things that are not directly related to what is happening, but it is still useful to them.
This does not mean to create something completely irrelevant. I think now everything that we do is viewed through the prism of what is happening right now. And it's definitely noticeable by the online content, which I see.
Do not try to cash in on the crisis. Do not use phrases such as "Who epidemic coronavirus. We have a sale. " Instead, say: "We offer a discount on your products, because we know that now all the hard times. We want to help and donate 10% ... ".
Offer people what they can do at home with your family, or something that will facilitate their work remotely and make it through this difficult period.
Change your tone and your tactics. Analyze those lists that you send. See what they say on the home page, a page with information about the company.
Make sure you do not ignore the crisis, but talking about it "effectively". I do not think you have to change every page of every site or marketing message. However, in many cases, it is reasonable to conduct an audit and make sure that you pay attention to the current situation and experiences of their clients.
I hope you are safe, that you stay at home and wash your hands. And I promise you that we Let's go through it. Take care of yourself.