Dmitry Sevalnev, co-owner and director of SEO and Advertising Department " Pixel Plus " in his speech at the DIGITAL Kvartinike ONLINE spoke about whether SEO in a crisis is important, what is the best approach, working on the result, and due to public works projects show an increase.
The importance of SEO in times of crisis
Why search engine optimization effectively run even in a crisis?
1. The crisis has passed, but the position and the traffic remained. Search engine optimization stands out from other channels in that much less tied to the budget.
Many currently understand that they have no operating funds, in the context of the budget decreases, respectively, applications become less, this leads to a further decrease in orders, and advertising budget curtailed even further. Thus SEO, paradoxically, is in crisis is much more stable than the SMM and context.
2. The minimum value of CPA for subjects with steady demand.
This is indicated by all the studies that SEO in this respect ahead of everyone, except for email marketing. But email marketing - is to work with an existing database, so it is difficult to surpass.
However, where no base there, or where it comes to demand, which does not include interaction with the audience on a long distance, SEO is probably the most effective channel for ROI value.
3. Reduction of budgets with decreasing returns. If the traffic for you fell, you as an advertiser, fix that for you, and reduced payment. This is for all the tariffs that take into account traffic and orders.
Whether to start SEO in crisis?
There are at least three good reasons to start doing SEO right now:
SEO brings real money.
The crisis will end, and the position has to be! It is important to remember that search engine optimization, is the channel with the delayed return (up to 3-7 months).
Now all users of fixed pattern solve problems online. (All karatnine at all accustomed to order and buy online, offline so much money will not return).
- And yes, now it is possible to negotiate cheaper ...
And it even works SEO? Rumor has it that long ago died ...
Let's see what happens to the traffic the site right now.
The specialists of "Pixel Tuls" in March carried out a study of traffic patterns service sites, and found that the proportion of search engine promotion in general traffic is 59%: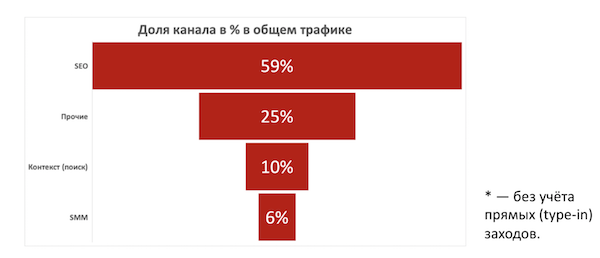 A study BrightEdge, dedicated traffic e-commerce sites, shows that SEO accounts for 54%: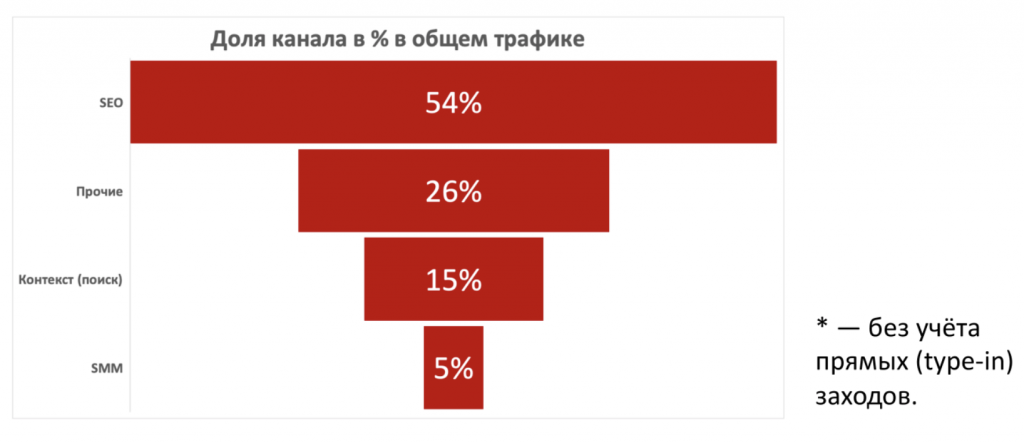 If a dead channel can produce such results, its state should suit all over.
The approach which produces a result

If your site search traffic share is much less than the purchase, or if at all there is no traffic, you first have to get acquainted with the general approach phases.
Approach, which gives a result consists of the following steps:
Step №0 - the technical condition of the site: speed, response codes, an adaptation for mobile, indexing
Step №1 - study of semantics: full search demand topics
Step №2 - a breakdown of the search demand of intent: the formation of the site's URL structure, oriented to meet the needs of the user.
Step №3 - internal optimization URL: page type, tag, the meta
Step №4 - marketing evaluation: everything to do with commercial factors ranking and trust the audience to the site and your business
Step №5 - post-analytics: analysis of achieved performance and dynamics, assessment of KPI
Step №6 - work with hypotheses: conducting tests, the ROI is not on the channel level and at the level of individual works
In fact, you can build a kind of pyramid of Maslow in SEO: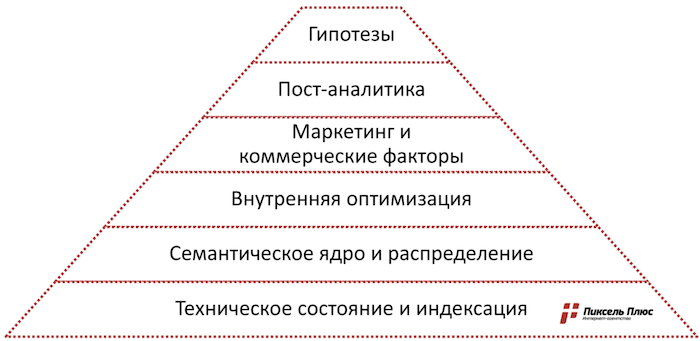 It could not be more precisely illustrated by the fact that it makes no sense to engage in marketing and post-analytics, you do not have some basis in the form of an acceptable technical condition of the site.
And there is no sense to engage in commercial factors, if any, there is no understanding of what the semantic core of the site, and how it is distributed across the URL-addresses.
In SEO, as well as in any other field, you need to move gradually. But most of the sites, unfortunately, stopped, in the best case for 3-4-th step, and often so completely on the 2nd, when projects do not yet have the full semantics, they do not have a clear and understandable distribution structure. They are moving over the years and their SEO-experts can never give a clear answer on what the search query which page moves.
The top of the pyramid
Something that is at the top of this pyramid, and Maslow associated with the need for personal growth and self-expression, in the case of SEO - leads to the development of the industry and approaches. The market has gradually comes to this - every hypothesis in SEO should be checked.
The secret is that the SEO-experts not understand very clearly that it is in SEO works, and that it will work for a particular project. Disclosure of the secret leads to the fact that the SEO-experts began working with hypotheses - and this is absolutely normal situation.
When SEO-experts says: "We need to write a million texts on your site" - a hypothesis. Which may have already been tested on other projects, but specifically for your business can be assessed only in terms of profitability.

Such works as:
changing patterns Title
SEO-writing texts
increasing the number of photos on the cards
work on "pumping" listings
Removing video reviews, etc.
they can be measured in terms of return for search traffic.
Check in SEO hypotheses
How it works:
Generating hypotheses
Study URL list
Comparison of the dynamics of groups: control and test
We generate a hypothesis on a group working on a certain URL-addresses, and then compare the behavior of this group with the control group. This can be done by any means at hand, how to use special software, and with the usual Excel.
This allows us to understand what works produce results and which are ineffective. Analytics also allows you to see which group of addresses is called "swing", and some have the potential to each group. Then you can split the group, or the whole of its elaborate on the subject of the influence of some factors or hypotheses, which we have. Then keep track of how it gave increase in real traffic (or projected, if you want a quick assessment), we did not measure actual traffic, and are measuring the intermediate metric.
Comparison of the involved and the potential traffic and allows you to find the optimal point of focus for SEO-experts, who will give the most rapid growth.
Thus, you can just move on groups, having the maximum potential in terms of return. Just chop the site into segments - the card catalog, category, subcategory, ... - and assess where the applied force, a potential need and what results you can expect.
Further, after the elaboration of hypotheses - we form a table with expenditures and revenues:


Where:
Total flow = Flow rate x + Hours
Revenue = Delta traffic from working traffic x Value of this type
Here's a rough calculation allows you to mark ongoing work, to evaluate their effectiveness and impact on the result. And it's much better than a complete absence of any intelligence, what is currently practiced almost everywhere.
Due to public works projects shows fold increase?
Practice shows that the number of such operations is rather limited. However, they engage appropriate only when already implemented the so-called base, about which will be done superstructure.
Roughly speaking, you must first meet the basic needs of search engine optimization - to provide a satisfactory technical condition of the site, complete semantic core, distribution and conduct basic internal optimization, and then move on to the growing points.

5 main points projects growth
New types of traffic entry points (the creation of new types of URL).
Working with the listing.
Working with the cards.
Conversion and commercial factors.
Post-analyst and hypotheses.
New types of URL = point of growth, because it creates a large number of pages targeted at new needs of users that used on the site are not covered. This allows you to make a quick start due to a low base (starting visibility to zero). Newly created pages (as an answer to the question "whether all types of existing site fulfills the demand?") Begin to rapidly perform well on bass, and eventually for midrange requirements.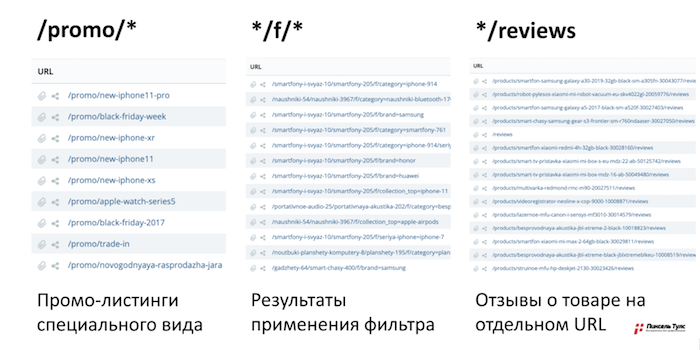 Listings = growth point, because in a number of subjects most of the demand is related to the task of further selection of products. Listings, being flexible tool, able to completely cover the part of the user's needs.
In addition, competent SEO-experts by creating new pages of this type can easily attract the user to the pages (or cards), where there is maximum potential.
optimization of listing areas: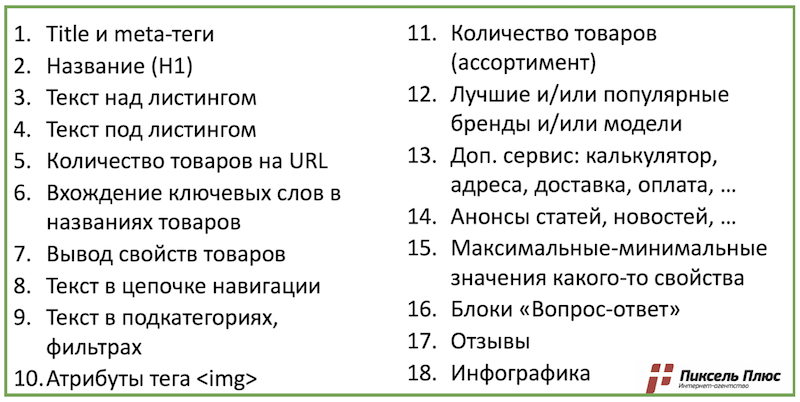 Cards = point of growth, because it attracts the traffic with the highest conversion rate. New cards - is the ability to scale by expanding the product range and increase coverage due to "pasting" card a few URL.
Height = conversion point of growth, because it leads to an increase in revenues, even in the same amount of search traffic. If the resource already has some decent traffic, you may want to immediately start with the conversion, as is the work of the current traffic without additional funds for advertising.
Testing of commercial factors and their improvement is largely correlated with an increase in the conversion. This is taken into account by search engines and works on the principle of positive feedback: CR -> PF growth -> Traffic -> PF growth -> ...
There really helps user testing to see and eliminate all the difficulties that may arise from the user when using the site. You can use, for example, service AskUsers, where you can get a lot of criticism from ordinary users to understand which way to go with the improvements.
Post-analytics = growth point, as it allows to determine the direction of focus and do only what gives the best results. Exclusion of inefficient work of the plan and strategy to promote decent yields savings in time and budget.
Practice shows that in any project there is an opportunity to show significant growth due to the study of one of these points, or a combination thereof. And the crisis is the time to work on it. Good luck!