Author: Peter Meyers (Dr. Peter J. Meyers) - Researcher Moz.
The next few months will be an unknown territory for all of us and will bring serious problems for both traditional and Internet companies. Many ecommerce-sites are already faced with a unique situation, and it looks something like this:

In the screenshot above - block with the results of Staples.com, which appears when you search sanitayzera hand, and this is only part of the first page.
Currently, these results represent a major challenge for every online store.
Although in normal circumstances, there are many ways to solve the problem with the missing stock and removed from the production of goods, the current situation has its own peculiarities:
Several similar item is not in stock at the same time;
Retailers may not know when they will be available again;
These products may not be available for a long time;
Demand is high and it is important to continue the page appears in the search results.
From an SEO perspective it is important to continue these pages rank. However, in the short term, this is a frustrating experience for consumers and can lead to their care to other sites.
Is this a problem of technical SEO?
The short answer is: not really. We want to continue to show this page in search results, but in the short term, they are not very useful.
Let's go through the usual set of tools for these situations to understand what is applicable in this case.
Option # 1. 404 (Not Found)
Here everything is simple: do not configure the server response code 404 for these pages. These goods are returned to the warehouse, and you want to sell them. Moreover, when they come back, you will need to act quickly. If you delete a page, and then try to get her back (and so several times), then Google will have to spend a lot of time trying to reconcile these signals. In other words, by the time when the page begins to be ranked, the goods may have again the abyss of availability.
Option # 2: 301 (FWD)
This option is also not optimal. Firstly, this product is still there, so move it somewhere else on a permanent basis, we do not need. Secondly, redirection cancellation 301 may be very vremyaomkim process. Therefore, as in the case of 404, set up call forwarding, we can themselves cause problems.
The only exception may be the situation when the goods are sold, and the manufacturer decided to replace it with another similar product. For example, Acme Essentials ended sanitayzer Hand Mountain Fresh capacity of 10 ounces, and the company decided to withdraw from this product and replace it with a similar product, but a capacity of 12 ounces. In this case, the 301 would be the right decision. However, such situations are rare.
Option # 3. 302 (temporary forwarding)
This option is already better, but in this case we are still faced with the problem of timing, if the goods are in stock in a short period of time.
For example, you run a 10-ounce sanitayzery Mountain Fresh from Acme Essentials, but the stock has a 10-ounce sanitayzery Spring Breeze from Trapper Moe. Is it possible to temporarily change the first product to the second in terms of research? Perhaps, yes, but imagine how it will affect the user experience. When users search for Mountain Fresh, and instead will see a page with the Spring Breeze, this may adversely affect the performance of conversion and with regard to the site.
Option # 4. ItemAvailability property in markup goods
You can use the property ItemAvailability in marking goods. For him, the following values: InStock (in stock), InStoreOnly (only in the store), OutOfStock (not available) and SoldOut (sold out).
Google can display the information as part of the search snippet - for example:

Unfortunately, this approach has two problems. Firstly, although users can appreciate your honesty, it is unlikely you will want to broadcast the "Not available" in the search results when others do not indicate anything.
Second, the problem remains relevant time. You can automate the change from "Available" to "Not available" in real-time mode, but Google still need to scan and update this information, and this takes time.
Is there an optimal variant?
We rejected these options because actually believe that this case is not an SEO challenge. Removing or redirecting pages in an unstable situation in which the goods may appear in the stock and go from the presence on a daily basis requires an urgent response from Google, but it is risky to rely on.
Therefore, if we want these pages are still indexed and ranked, then we need to make sure that they benefit the users, and this is the problem of the user experience.
Here is an example of how not to do: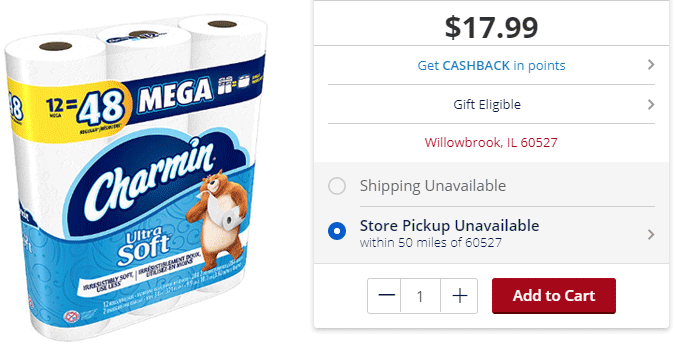 Shipping is not available to take away the goods too, is in the store, but the system automatically selects this option and proposes it to the user. If the user still choose it, lands on a page, where again they say that pick the goods from the store is impossible. There is no value to visitors from the search there.
Here is another option, which at first glance, not much different, but it is much better than the first: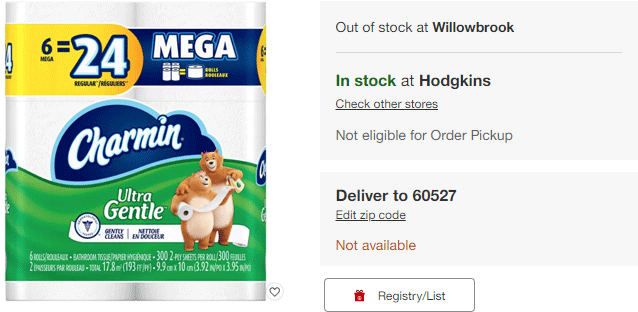 This item is not at the specified address and is not available for delivery, but it is available at another store. It's not ideal, but in the present circumstances - is quite viable. A viable option - it is a potential sale.
Below - an approach that allows users to search out another worthwhile option: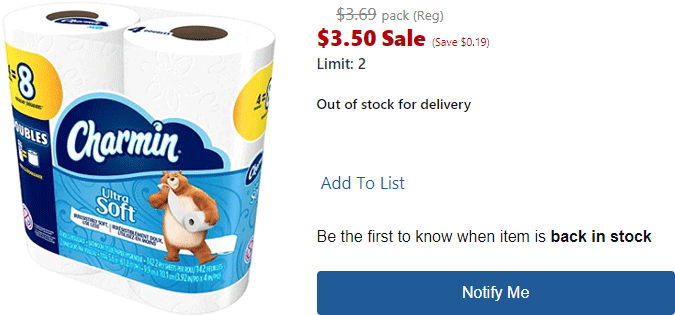 This is not the most attractive visual pattern, but the button «Notify Me» gives the user instant alternative. To get notified when this product is back in stock again, he simply enter your email-address.
Even if you do not buy anything in the store today, he can enter his email and to order later, when the product is back in stock, and it will look for an affordable alternative.
On this there is another option the same page, which is a good solution: «Also available in» drop-down menu (also available ...):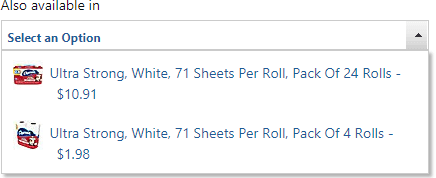 Unfortunately, in this case in all other stores product also absent. But if this feature to configure so that it only displays the similar products available, it will be possible to increase the probability of purchase.
In the current unique situation when demand far exceeds supply, users are much more likely to pay attention to similar items.
It is clear that these functions require a much larger volume of work than configuring multiple 301 redirects, but now we are looking at a situation that could last for weeks and months.
Small improvements that give visitors the viable options that can bring thousands of dollars and also help to maintain the resource position in the rankings.
And what about the internal search engine?
It is understood that the embodiments described in the first part of the article, are not ideal for internal search users, but whether or not to temporarily exclude these items from the display?
From an SEO perspective it can be tricky. If you disable the display of these goods, you also block the internal link juice that may affect your position in the rankings.
In addition, as a result you may get a blank page that does not display your usual range.
In this situation there are two options that are worth considering (each of which will require investments):
1. Allow users to filter out those goods which are not available
Usually online stores do not want to hide the goods. They want to give users the impression of a large quantity of goods in stock. However, it does not help if all the goods in fact absent.
If your customers can easily filter out those goods which are not available, it can solve both problems described above:
Firstly, visitors first see the full list, and learn what products you are usually supplied.
Secondly, you can make the filter inaccessible for search engines so that they continue to pass link juice for all goods.
2. Deprioritiziruyte missing goods
Another option - to move out of stock products down the results of the internal search. This allows users to see the full list, and will also provide access to search engine spiders, but it will bring to the forefront of available products.
So what's the secret?
We would like to give you a magical HTML-tag or .htaccess line, which would solve the problem, but when the situation is changing every day or even every hour, many of our best practices crumble. We can not apply conventional solutions for unusual problems.
We believe that in this unique case, the most important from an SEO point of view - is to maintain the position of the page, and this is likely to have to leave her alone.
Any technical trick which can be implemented, loses its effect in the moment when the arena located crawlers and processes rescan and caching pages require time.
The best thing we can do in the current situation - is to provide users with viable options for interaction and maintain the value of the page.
This approach requires additional investment, but they will be repaid, and the changes made will continue to bring benefits, even when the world returns to normal.