All non-obvious chips, which will be discussed in this article have been tested in real projects.
Yandeks.Kyu
Recall service Yandeks.Kyu was submitted by Yandex simultaneously with the launch of the new version of the search algorithm "Vega". This service questions and answers, formed as a result of the merger of the service Yandeks.Znatoki and The Question in March 2019.
Can be long to guess why Yandex Fanciers decided to close and run instead of service Kew, but one thing is for sure: Yandeks.Kyu - is a cool and useful service to promote.
On Yandeks.Kyu can engage SERM, you can get feedback from the audience and work with the information space. You can control the external authority of their company or brand.
Yandeks.Kyu can use individuals, organizations, media projects, celebrities. Organizations while the service is small, but some are already in full use of its capabilities: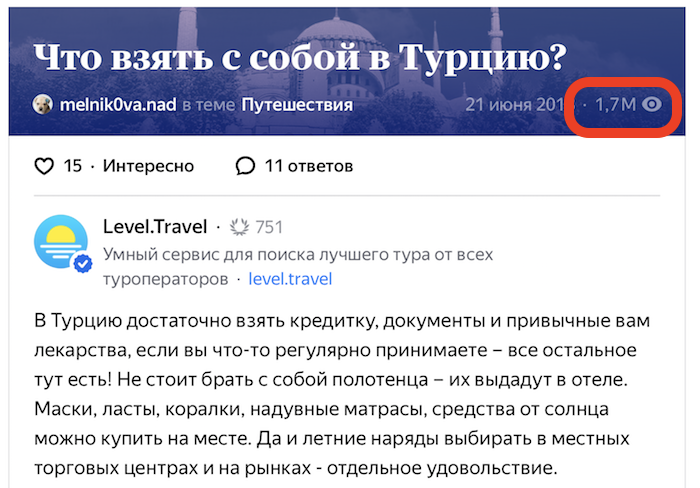 Yandeks.Narodnaya map
All we have become accustomed to see On Yandex.Maps points belonging to different organizations - restaurants, pharmacies, shops, garages and so on. And accustomed to Yandex.Spravochnik in which you want to register your business, to get these cards. However, few people know that there is another great source of data for Yandex.Maps - People's card.
People map is created for users to be able to celebrate there any points on their routes and share them with other users. And also to help enthusiasts do Yandex.maps skilful. But there is another non-obvious feature.
If the People's map add some arbitrary point (in this example, "Industrial surveying"), then this point very quickly will not only On Yandex.Maps, but in Yandeks.Navigator applications running on the basis of these maps: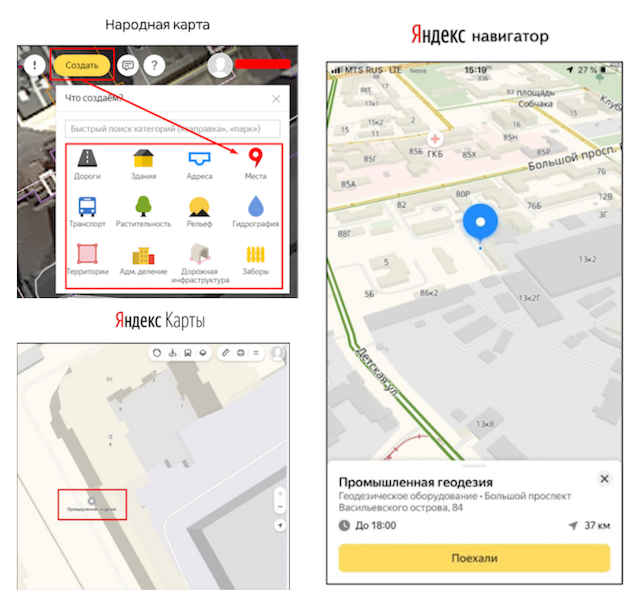 Now, type in the search Yandeks.Navigatora "industrial geodesy", you can find the very point that has been added through the People's card. Thus we have access to 16 million users of the Navigator is almost zero competition. There is still quite a "deserted" - there are flowers, pharmacy, gas station, well, a couple of smart people, which is very simple, you can join.
If your product or service has some sort of geolocation, if their detection is important Geosearch, be sure to take advantage of this opportunity.
SEO-fullness
About SEO-fullness describe an example case. We have a client that delivers the rental diesel generators, are very large and very noisy. His website need to be optimized for the needs of "generators Rent" and everything connected with it.
We spent a full scope of work with the site: technical (address, speed, doubles), work related to the relevance (entry, order of priority), with links to the content of the site (content that is its usefulness and uniqueness), with a user trust ( scripts, actions, expectations), etc. As a result of the relatively poor position we have relatively good: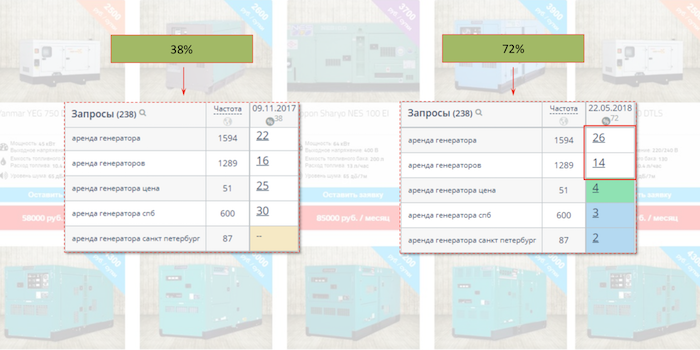 A total of 230 requests, all entered the top, but the two most important requests, as we see, could not be obtained with the help of SEO us. What to do?
Unobvious course, brought us as a result of the two most important request was to the radical decision to add to the site information on small gasoline generator, which the client was not even available.
The trick is that the request "rentals generators" for the search engine looks like this:


And only if you have a website it's all there, it really matches the query "rent generators."
As a result, the client on these two issues came out in the top, 2.5 times increased the number of orders, and orders for petrol generators redirected somehow its partners.


Working with bases
If you are doing contextual advertising or optimization, something that is associated with the requests, then you are working within a semantic core. Many go further and work with intent - with the tasks that the user would like to implement in the framework of a request. If we go a little deeper, there is a basis - the basis on which the user drew, choosing a particular product.
Structure poiskovgo request: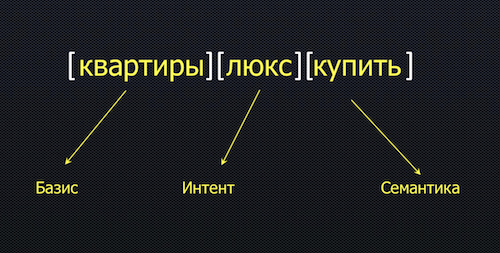 It allows you to work with the bases to develop the semantic structure of the project, and it's quite easy.
Determine the intent Searches: [luxury apartment] -> [premium apartment] [Apartment VIP] [flat elite] [flat business class].
Go to any of the found intents can be applied semantics. For example, for the intent [apartment VIP] we have the following queries: [VIP apartment to buy] [VIP apartment rental] [VIP apartment sf] [VIP apartment repair].
Also to any basis under review, a search query can make available Intents and semantics: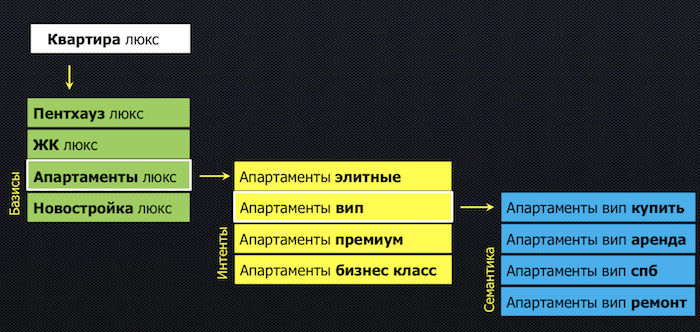 Working with the semantics within the intents and bases allows a multiple increase coverage of interaction with the target audience.
Where to look for new bases:
Search services: vordstate right column, Hints with "..." just looking for related queries:
Variations: synonyms, special. terminology, jargon, slang, abbreviations, transliteration, reducing
Names: service catalog, categories
Information field: ankorlisty competitors sites, suppliers, marketpleysov
Base: Bukvariks, SerpStat; keys.so
Valorisation

If your product / service is not sold, it means that something is irritating the user. Maybe:
Very expensive / cheap
unreasonably long
It is difficult to choose
Confusing results
Particular attention should be given to clauses relating to price and choice.
The price of the goods / services are infinitely lower impossible, it is unprofitable and inefficient. We need to work on the value of the goods, on Reports of it to the buyer. Creating added value goods - one of the easiest ways to get him to buy.
The value can be raised virtually - by adding some services, some guarantees (which may have not wanted), a variety of buns and bonuses to buy.
As for the difficulty of choice, remember, when you offer the user to select from more than 3 items, you're pretty much makes it difficult to make a purchase. Fear of making a mistake is always stronger than the desire to purchase goods.
A classic example is when a woman tries on a fur coat in the store, clever saleswoman tells her that this coat - the best in the store and buys a woman. Silly same saleswoman brings a choice of a few coats - very fashionable, very cheap, very warm and very beautiful. A woman can not decide and do not buy anything.
Our task within the site - a truncation selection. This can be done using a variety of collections, functional comparison, search filters, etc. The site must be recommendatory elements which help the user to narrow down the selection of all the available variety of goods.
To boost sales, the buyer need to bring:
Why choose this product
Why only you
Why at this price
Why here and now

By answering these four questions, and it is better not to text and infographics, you can significantly improve your site PF, reduce the number of failures, and thus improve your ranking in the search.
Tools for self-reflection and enlightenment