Author: Cyrus Shepard (Cyrus Shepard) - expert technical SEO, Moz former employee and founder of SEO-company Zyppy (consulting and software development).
At the dawn of search engine marketing SEO-experts often heard of the top two tactics that are repeated so often that it has become an axiom. They sounded like this:
Put page title in H1 tags;
Use one - and only one - the title page H1.
These recommendations are presented in audits and SEO-tools, and have been a source of constant concern.
Over time, SEO-experts are easier to treat this, and strict concept of the use of H1 tag given way to a "large text at the top of the page."
Google has learned to better analyze and understand the content and how the different parts of the page are consistent with each other. Considering how often the publishers make mistakes in the HTML-markup, search engine chose the right strategy.
The use of H1 tags up so frequently that Google employee John Mueller said to him during a video call for webmasters:
"You can use the H1 tags on the page as often as you wish. There are no restrictions here - neither the top nor the bottom border.
Elements H1 - a great way to make the page more structured, so that users and search engines can understand what the page is under different headings, so I would use them properly on the page. In the case of the HTML5, in particular, the presence of multiple H1 elements on the page is quite normal and expected. So you do not worry about anything.
Some SEO-tools mark it as a bug and reported: "on page H1 tag is missing" or "You have two H1 tag." From our point of view, it is not critical. From a usability standpoint, it might make sense. So I would not completely ignore these recommendations, but would not consider them a critical issue.
Your website can work just fine without both H1 tags, and the five headings H1 ».
Despite this statement from one of Google's most respected officers in the SEO-community, many SEOs have kept skeptical. "Trust but verify".
So we decided to test this question, using a scientific approach.
So, Craig Bradford (Bradford Craig) of Distilled noticed that the Moz blog for a header H2 tags are used instead of H1 (the quirks of our CMS).

We decided to split-test format 50/50, using the platform SearchPilot (previously DistilledODN).

Half of the articles header was changed to H1, and half - remained H2. We were interested in the differences in the organic traffic between these two groups.
After 8 weeks the following results were obtained: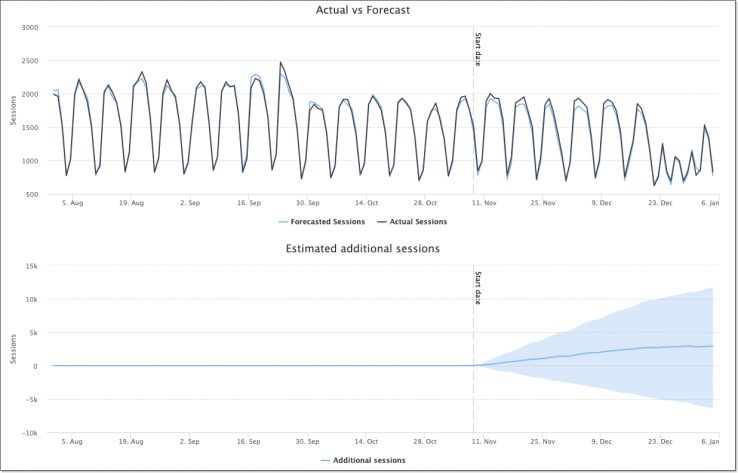 A breakdown of the changes: non-significant
The projected rise: 6.2% (ie 6200 Organic sessions per month)
We are 95% confident that the monthly increase organic sessions is between:
Upper limit: 13 800
Lower limit: -4100
Overall, the results of this test were inconclusive in terms of organic traffic, so we recommend to roll back all back.
The result: a change in the H2 headers H1 has not established a statistically significant difference
Testing confirmed the Google application: for search engine algorithms do not seem very important, which tags - H1 and H2 - used for titles.
Probably, we would see the same results as if you were using tags H3, H4, or did not use the title tag.
It is worth noting that the headlines of our pages are still:
Use a large font
Located at the top of each article
Unambiguous, and probably easy to understand for Google
It is also important to clarify: this experiment does not prove that H1 tags are not a ranking factor. It just shows that we could not find a statistically significant difference between the use of H1 and H2.
This solves the dispute? Optimizers whether to discard all the precautions and recommendations for H1? No, not at all.
Why still need to use H1
Despite the fact that Google is able to correctly identify the vast majority of page titles, there are some pretty good reasons to continue to use the H1 as a best-practice SEO.
George Nguyen (Georgy Nguyen) in the article on the website Search Engine Land has allocated some excellent points, which we will briefly brought below:
1. The headings H1 contribute to the greater availability of content
reading technology with a screen can use H1, to facilitate the users to navigate through your content - how to display it, and to search for.
2. Google can use instead of the H1 tag title
In some rare cases - for example, when Google can not find or handle tag title - he may try to remove the title from the other page elements. Most often used for this purpose H1 tags.
3. The use of headers is correlated with a higher position in the ranking
Almost every SEO-correlation study shows a small but positive relationship between a higher position in the ranking and the use of headers on the page. For example, say the results of this recent study SEMRush's, which analyzed the headers H2 and H3.
Vnesom clear: there is no evidence that the headers are Google ranking factor. However, the headlines, as well as structured data, can provide context and make their content more understandable to the search engine.
John Mueller said in a Twitter:
What does all this mean
Although for some reason is still recommended to follow "best practices" in relation to H1, Google, most likely, it will understand what's what, even if you do not follow these guidelines.
Thus in any event it is desirable to:
Organize content with hierarchical titles - ideally H1, H2, H3, etc.
Use a large font for the header at the top of the page. In other words, it is important to make sure that the Google, for screen readers and other systems or the people reading your content, could identify the headline.
If there are technical limitations that prevent the use H1, try to fix it, but do not worry much.
SEO in the real world - good or bad - can be quite confusing. Fortunately, it can also be flexible.