Author: Team Asia Pacific - Internet marketing and promotion in China
At all variety of tools to promote the Chinese Internet space, ways to increase the conversion of the site and leads, business owners and marketers are betting it on search engine optimization, assuming that the mechanics of optimizing a website for the Western search engines (Google, Yandex) is similar to the traditional leaders of the Chinese market - Baidu, Sogou et al.
In this article we will try to understand the basic tools, pitfalls and alternative methods of SEO China.
Why the Chinese market no popular search engines in the world

Chronology of isolation from the world of the Internet
1998. "If you open the window for fresh air, you have to expect that the air will fly and fly!" - so it was marked by the era of the Great Chinese Firewall, a project aimed at the separation of the Internet space in the West and East, and as a result, restrict access of ordinary Chinese Internet users to the "outside".
2006. Google offers in the area CN (google.cn) and undertakes to block sites with "undesirable" content, contrary to the policy of the PRC.
year 2009. Blocked services Facebook, YouTube, Twitter, Flickr, Hotmail and Gmail partially mail client.
2010. Google states to withdraw from the Chinese market and redirects all traffic to Hong Kong (google.com.hk).
2011. Google finally loses its presence in mainland China.
Today, the Chinese market is divided between the four largest search engines:
Baidu (百度 bǎidù) - market share of 73%
Shenma (神 马 shénmǎ) - market share of 10.9%
360 (360 搜索 sōusuǒ) - market share of 7.9%
Sogou (搜 狗 sōugǒu) - market share of 4.5%
With the departure of Google, leadership in the Chinese market took not only the local search engines. Also, its position has strengthened WeChat, that of messenger transformed into a complete ecosystem with an audience of over 1 billion users, social network Weibo replace Facebook and Instagram, and the place of YouTube took Youku, Tudou, Bilibili with a total coverage of more than 700 million. Monthly active users. The Chinese Internet has changed in that each familiar to us western service there are two or more Chinese, competing only in the local Chinese market. Except, perhaps, is the service of short video douyin, issuing for foreign users of its "European" analogue - TikTok.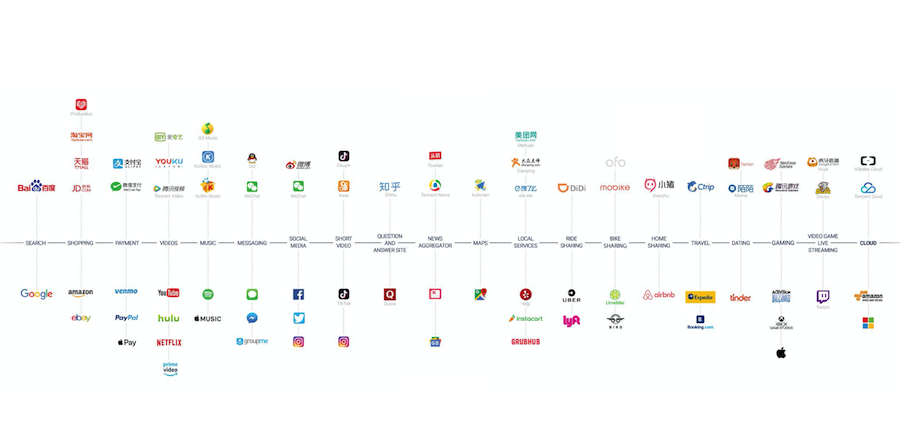 Features of search results on a search engine Baidu

The uniqueness of the search engine Baidu is the SERP-links monopolization. Unlike our usual Google or Yandex, where 70% of search results is assigned to organic matter, to issue Baidu is the opposite - the first 4-6 positions are reserved and contextual advertising services Baidu, for example, Baidu Baike (analogue of the Wikipedia of China, which is also blocked in China) , Baidu Zhidao (analogue Answers Mail.ru), Baidu Tieba (large thematic portal), and others. the algorithms of search results first index "friendly" web resources and resources with the most traffic, where there are mentions of one or another of keywords. Therefore, as part of search engine promotion site in China is very important not to forget about the "content of the island" - a social platform, media and other resources, the official pages and accounts are easy to deduce the TOP. Such resources include, for example, Weibo (the whale. 微 博), Little Red Book (the whale. 小红 书 Xiaohongshu) and services Baidu.

Difficulties promotion
For quality indexing of your site in the search results Baidu requires a hosting provider in mainland China. Search algorithms especially pay attention to:
speed of the site;
the presence of ICP license.
The site is hosted in China, Ping will always be lower than outside. Low Ping is achieved by finding the "inside" of the Chinese firewall, because the site is listed in the register of approved sites. To be in such a register, the Chinese web hosting provider before connecting the site submits an application to the Ministry of Industry and Information of China. Attached to the application should be the Chinese license to operate a business, it is available at registration in China, the legal entity (Hong Kong does not fit, only mainland China). After a positive review of the application, a site license issued by ICP, and is assigned an identifier, which must be placed in the footer of the site. Learn more about getting ICP license can be read here . Then you can "officially" be present in the Chinese Internet space, as well as to conduct business online.
So, for an effective SEO in China, you will need:
Chinese legal person and the license to operate a business;
connection to the hosting provider in mainland China;
ICP license registration.
In circumstances where there is no possibility to register its own legal entity and connect to the local Chinese host, you can use the server at the periphery - in Hong Kong or Singapore - it will increase the speed of opening of the site in China, but legitimately be present will not allow the Chinese Internet, because the site will ICP license is missing. Once again, the search algorithms always give preference to sites hosted in China and the current ICP license.
ICP license in China Online:
Alternative methods of SEO in China

Before you develop SEO in China, you must define your ideal Chinese customer, where it is present, which is visited web resources, which uses social networks on which opinion leaders focused.
In China, ordinary Internet users to find information more uses meta-search engines, such as an ecosystem or Toutiao WeChat platform from Bytedance. When you need to find something, you do not exit the application, you are looking at it. Intelligent algorithms will find a relevant answer to any user request. In this case, to determine effective platform (metapoiskovik) and its CA prepare material specify the desired references and post here.
You can register a business account in WeChat ecosystem, fill and give it a description. When properly configured, you will be indexed in the search results WeChat. So, at the request of "Moscow" and "goods" first position rightly take official accounts TSUM and Smolensky Passage, followed closely - longridy about shopping in Moscow.

It is important to bear in mind that of all the Chinese search engine Sogou only indexes content from WeChat. If you have published material in your business account WeChat, then Baidu, 360 and Shenma not see it.
Once again the importance of the definition of the target audience. For example, if your customers - this is the Chinese tourists at the stage of planning a trip to your country, you should pay attention to the Chinese travel portals, where you can buy tickets and to decide on accommodation, local sights and cuisine.
Example - the largest travel portal Mafengwo (MAU - 25 million), where you can post information about your service or even offer their services directly on the platform.

Restaurant "Penthouse" in St. Petersburg

Restaurant "Turandot" in Moscow
As described above, Baidu indexes links to social network Weibo and Little Red Book. If your account is in good Chinese involvement among the subscribers and users of the platform, with the Fortress and references from opinion leaders, then you will be able to rank on the top positions.
In conclusion, I want to add that SEO in China should be viewed not as a principal and, moreover, the only channel to attract Chinese traffic and promote their brand as well as a companion Website promotion tool in China, along with their promotion in social networks, posting links on relevant Internet sites, advertising in opinion leaders, as well as buying traffic from the largest advertising networks in China - Baidu Ads, Tencent Ads, Alimama from Alibaba or Ocean Engine from ByteDance.