SEO and PPC can work as stand-alone advertising channels with unique roles and tasks. At the same time, both of these branches of internet marketing pursue the same goal - to attract new users to your site.
Faced with financial constraints and with a budget that does not allow to deploy two full campaigns, marketers often decide to combine these approaches, or to use only one of them. You may ask, what option is more advantageous from a financial point of view.
In fact, it is not necessary to choose between SEO and PPC. Even with a limited budget, you can benefit from both practices. One only has to set priorities and make a thoughtful, integrated marketing strategy.
Below I have listed some useful tips and visual techniques that will help you take a fresh look at PPC and SEO, as well as to effectively combine them to increase traffic.
Find new uses for old SEO-tools
Some marketers find keywords with the "long tail" gold mine, while the other - frankly outdated technique. No matter what type of specialists do you feel about the detailed questions to help you identify negative keywords, hindering your PPC campaign .
For example, people looking for information on request [how to make greeting cards] will not see your ads, entitled "buy a gift card to the birthday" because of irrelevant negative keywords.
Identification and elimination of negative keywords - a very useful practice. Resorting to it from time to time, you will relieve users from the useless content and stop overpaying for unnecessary clicks.
Effectively use PPC-data
Pay attention to your ad text, working particularly well. Adjust it to suit the requirements of SEO-to get the most out. For example, implemented the best PPC-keys in the meta tags on your site. Also use the theme most clickable ads for writing articles and blogging to attract organic traffic.
Focus on keywords
Using data for the keywords collected during the PPC-campaign, to develop an effective SEO strategy is not a new concept. Yet this tactic is worth mentioning.
Analysis of the PPC-ad is a reliable and proven method of evaluating keywords. Marketers clearly see which queries were found users and encouraged them to go to the site. This information greatly simplifies the creation of competitive SEO-strategy.
Some sites are in principle not use advertising with pay per click and focus all efforts on SEO. In this case, when they finally decide to run PPC-campaign, a list of keywords workers already at hand.
Never too late to combine SEO and PPC to improve the visibility of your website. However, their parallel implementation is the most effective approach.
users return to the site
Even if your SEO-efforts brought some out and increased the ranking of your site in search, do not rush to celebrate. For various reasons, potential customers can dramatically change their preferences and leave the site. For example, they may want to compare your prices with competitors' prices. If they find something attractive in a different place, to bring them back will be difficult.
Gently hold the visitors and keep them interested in using remarketing.
The average Internet user spends about 5 hours per week on online purchases. Most visitors probably will not remember your site after a single visit.
To encourage them to go back, find out what products they are interested in, and display advertising of these products over time. This technique will be a useful reminder and a good opportunity to establish a long-term dialogue with new clients. The user is much easier to click on an ad in a browser than re-search for a product, seen a week ago.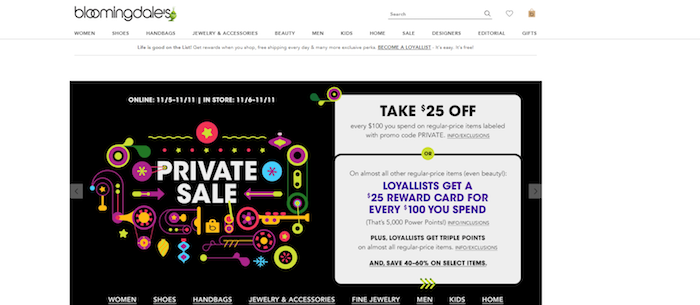 Combine SEO and PPC, encouraging visitors to return to your site and complete a purchase. While timely pop-up ads can bring traffic to your site, a first-class user experience and useful content will make visitors into active customers.
Build your online image based on how PPC, and SEO
Ads pay-per-click can be used not only for promoting products and services. Get creative and prepare an effective PPC advertising to blogging articles to attract interested users to the site. Online travel, starting with the collection of information, often end with large purchases.
Do not worry if at first, users will skip your ad and go to competitors' sites. It is important to remain constantly in sight. Ultimately, the more people will click on your ad, because your brand name will be recognized and they will want to get to know him better.
Remember the following principles:
The more often your profile flashes in the search results for relevant key demands, the better.
The information in the ads should be concise, useful and intriguing.
Give a clear definition of the product and list the benefits that the customer will get by buying it (discounts, gifts, bonuses, etc.).
Quality page, the user sees after clicking on the link, is also crucial.
Make sure that your content is relevant and makes a compelling call to action, giving impetus to the implementation of the targets (registration, add items to your cart, order placement, etc.).
When potential clients will come across attractive offers, they go to the website for detailed descriptions. Do not disappoint them.
Be careful with bold marketing solutions
Not every creative combination of PPC and SEO will be successful. Let's look at a vivid example.
The oil crisis of 2010 in the Gulf has been a difficult time for BP (British Petroleum). In an attempt to fix the company's reputation, we launched a special marketing PPC-advertising.
Every time someone searched Google for information on request [oil spill], first floated paid advertisement BP. The link led to an article on their website dedicated to clean-up. The idea was that the culprit of environmental disaster look like a caring and respectable company.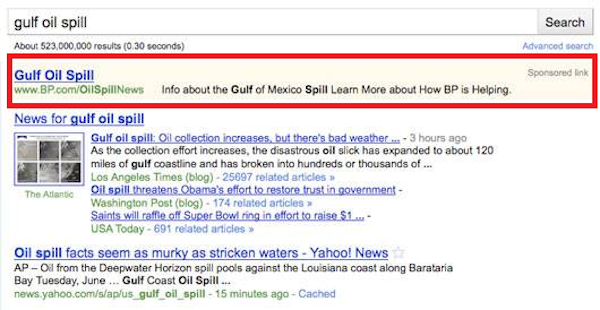 However, many were disappointed that BP administration has spent a lot of money on advertising rather than to engage in a real problem. Critics have accused the company is that it pushed its reference to the first place in the search results in order to distract attention from the defamatory content (news, reviews, environmental reports, and so on. D.).
The lesson is that the original PPC-campaign aimed at increasing brand awareness and restore your reputation, can be a good idea, but it is important to carefully analyze the potential public response to its launch.

Summary
Some marketers still consider SEO and PPC individual disciplines. This is particularly noticeable among young professionals and small businesses, which tend to prescribe clear purpose.
This article was written in order to demonstrate the effectiveness of well-designed combination of SEO and PPC.
While pursuing organic and advertising campaigns, you can get more data for analysis, to dig deeper and discover unexpected details about their target audience, use that information to improve SEO and PPC both approaches in tandem, or separately.
Keep in mind that SEO, PPC, and constantly adapt to changes in Google algorithms. This is how they help the sites to comply with the new requirements and to maintain a high position in the search results.
So watch out for the most significant changes and do not forget to regularly update their SEO and PPC-strategy.