Author: Alena Selivanova, an expert in online presence management RocketData.io
Last month BrightLocal announced the results of a large-scale study sites 11,000 local companies. With Google Analytics traffic sources have been studied, the number of unique monthly visitors, page views, session duration, bounce rate, and pr.metriki.
These were monitored for 17 months (December 2018), with the result that it was established that on average, websites of local companies visited 414 users every month (not including searches that trigger your Google Profile My Business). However, according to industry data still differ considerably.
So, in the top three - showrooms (4846 visitors / month), hotels (30% less), restaurants (almost 2 times less than the auto). 10 times less visitors are law firms sites 30 times less - cleaning services.

Increase in the number of unique visitors is certainly relevant to all types of local companies. It leads are, that can bring profit. And the more users come to the site, the more likely that profits are made.
The most effective advice in this case - local optimization (such as the site and locations: the creation of cards all of the points on Google Maps, Yandex, social networks and other sites). According to the ranking factors in local search, it is the "signals" of cards, local references and the star rating of the company (job reviews can affect it) have the highest priority by determining the position of a local issue.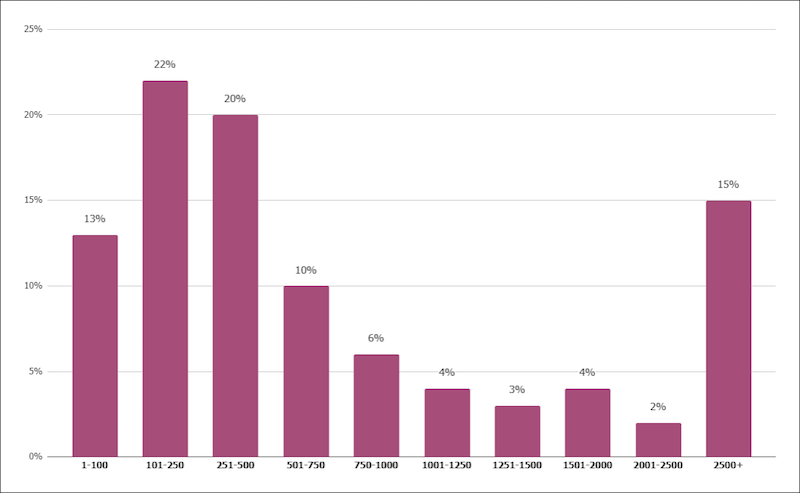 Indeed, the sites of many companies have low attendance: 13% of the investigated resources is visited monthly by no more than 100 users, 55% of resources - not more than 500.
In addition to unique visitors, the study found that local organizations are fixed sites an average of 506 search sessions per month (36% of them - from mobile devices), while any other site in the middle - 205 sessions.
66% of local businesses capture less than 1000 sessions on their websites, 29% of companies - less than 250 sessions on a monthly basis.
Lack of e-mail traffic
One of the most striking facts found out during the investigation - "the average local business is not as a source of traffic junctions with email and advertising." So, the sites studied, 81% of local companies was not recorded transitions with email. Only 4% of companies record more than 100 sessions per month from this source.
10% external traffic falls on referral links (may also imply transitions from the social media) traffic directly from social networks - 4%.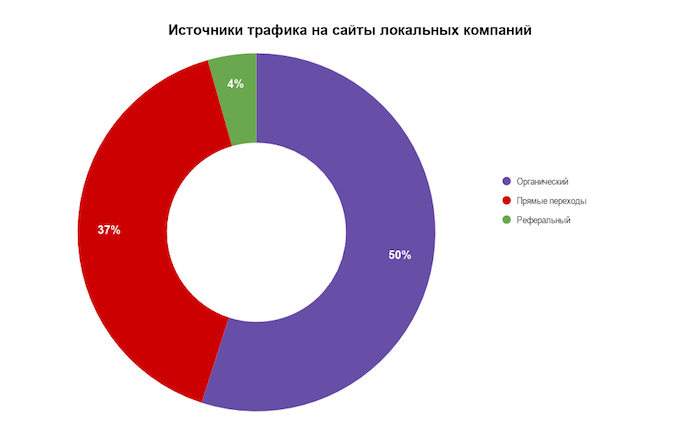 Approximately half of the traffic, according to a study - transitions from organic search. 37% - direct transitions carried out more often with the help of brand queries.
With regard to the non-brand search queries (eg, categorical or commercial), those that allow users to search for products or services more often, they are usually in the 2-22 times higher (in each company), depending on the business category.
If we look in more detail by industries, the maximum number of hops to the contextual and display advertising (sessions per month) fixed showrooms (837 and 27, respectively) and hotels (90 - only context). Just a few sessions, due to improved conversions on contextual advertising, get a site on entertainment and wedding agency. The other categories of businesses - on zero.


The organic traffic
Percent organic traffic depending on the industry may also vary. The greatest number of transitions from the organics were recorded on the websites of medical and educational institutions (60%).
Real estate agencies, hotels, social services, wedding agencies, restaurants also receive a significant share of traffic from search (59-57%). The lowest percentage of organic transitions - from cleaning services (39%), as well as companies that provide advertising services (29%).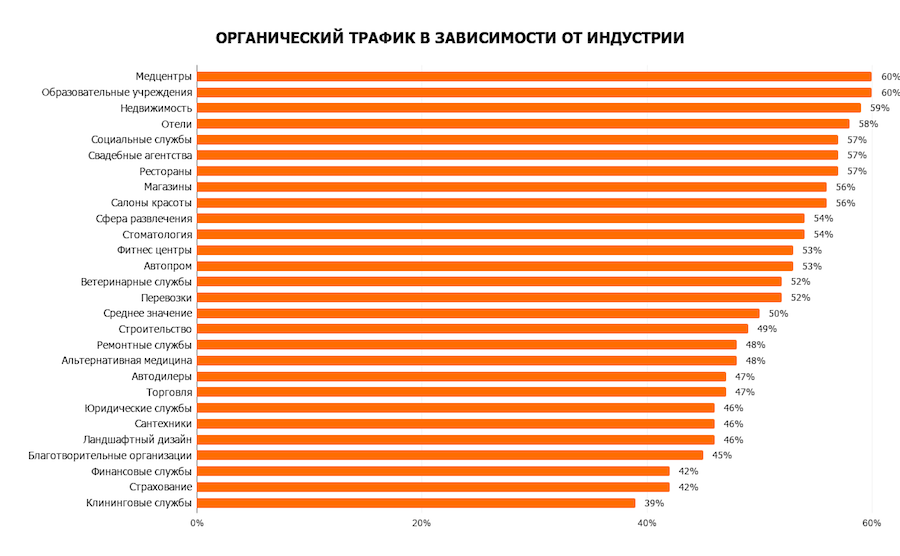 As for page views, the site of a local company receives an average of 1,099 page views per month. In 47% of organizations - less than 1,000 views per month.
Dealers again in the top, their sites get a lot more views than the sites of companies from other industries (25698). Almost 2 times less pageviews from sites of hotels, almost 4 times less - at the sites of restaurants.
The lowest number of hits - the representatives of trade and cleaning services.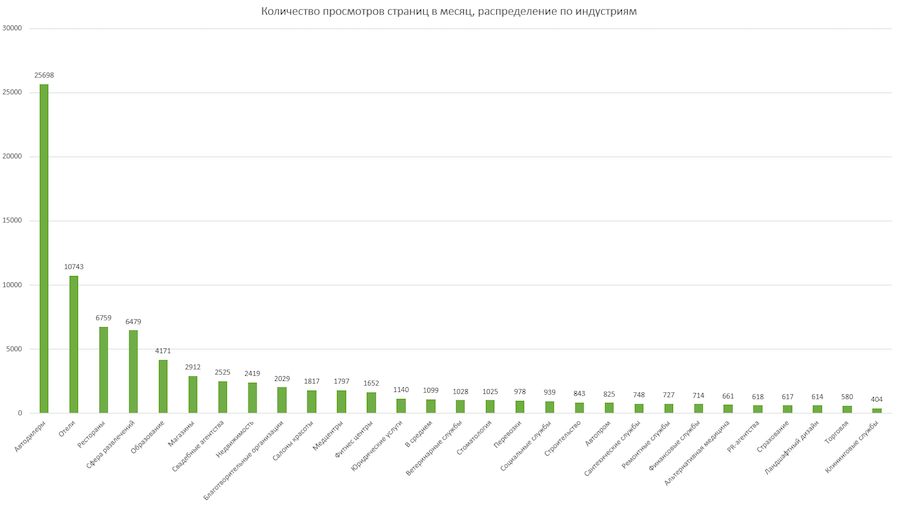 mobile traffic
36% of all search sessions relating to sites of local companies engaged in mobile devices. However, some details are covered in detail. Let's look at the comparison table for Industry: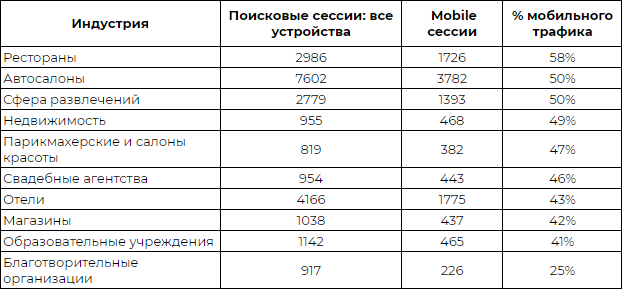 For example, the highest percentage of mobile traffic accounted for the restaurant industry, 58%. Dealers and Entertainment - 50%, real estate - and almost half, 49%.
The smallest number of mobile sessions - at the sites of financial services (26%), charities (25%) and marketing / PR-agencies (17%).
bounce rate
How Google Analytics refusal to accept the session, during which was opened only one page of a site (ie a single request to the server).
Thus, the industry with the highest failure rate:
Advertising agencies;
maintenance services;
legal services;
Plumbing services;
financial services.
Also, based on the survey data has been noticed a correlation: the sites with the highest number of pages viewed per session have low bounce rate.
The companies of all sites studied categories of mobile bounce rate is higher than with desktop. This is not surprising, because mobile users want to get the information without "unnecessary movements" and are not willing to "wander" through the tabs. Not finding the right information (or if the site easily navigable, or it is not adapted to mobile) user leaves the page.
The main conclusions of the study, as well as important insights for optimizing:
On average, local company websites visited by 414 people a month.
Nevertheless, the observed global trend of reducing the organic traffic to websites and increase the proportion of "zero" results.
In most cases, local business is not as a source of traffic junctions with email and advertising.
36% of all search sessions relating to sites of local companies engaged in mobile devices.
Mobile bounce rate is higher than with desktop for all categories of businesses.
And some of the unobvious:
According to Google, over the past 5 years, mobile graphics organic growth of traffic and inquiries [with me] are identical.


On this basis, we can say: search queries with the specification "near" today at the peak of popularity. A modern users than ever are interested in visiting the nearest shops / companies on the local market.
So, any company that puzzled attracting traffic to the site, aims to monetize it. For local companies the greatest importance in this context are the location data (cards of all branches on Google maps Yandex) and local optimization.
If you have tens or hundreds of branches, designed to help professional services, which not only add data about locations in the relevant sources, but also to optimize them according to local factors ranking, as well as protect against unauthorized changes.