Author: Ray Lily (Lily Ray) - SEO-director, marketing agency Path Interactive.
Structured data markup - is a powerful tool with which SEO-experts can provide search engines with important information on the pages. With proper use of semantic markup can significantly increase the effectiveness of the site in the search due to a better understanding of search engines of its content and expand its presence in the extradition.
Although Dictionary Schema.org replenished constantly, Google updates its list of supported structured data is much less. When these updates occur, marketers have access to new tools to improve the representation of the site in the search.
This year, Google added support for three types of structured data: FAQ, HowTo and Q & A. With their help, you can significantly increase the visibility of your pages in search results for your targeted keywords - especially on mobile devices.
Council. When you add markup, use the Google structured data testing tool to see how will look like advanced snippets in search results. Statistics FAQ, HowTo and Q & A can be tracked in Search Console a report on the status of the expanded results .
FAQ
According to the Google , this markup can be used on all pages that contain a list of frequently asked questions and answers on a particular topic. This means that site owners can create a FAQ on any topic and use FAQPage marking scheme for this content.
"Frequently Asked Questions" - particularly interesting structured data format, due to the large space that this type of advanced occupy in the organic SERP.
For example, they look like on mobile devices: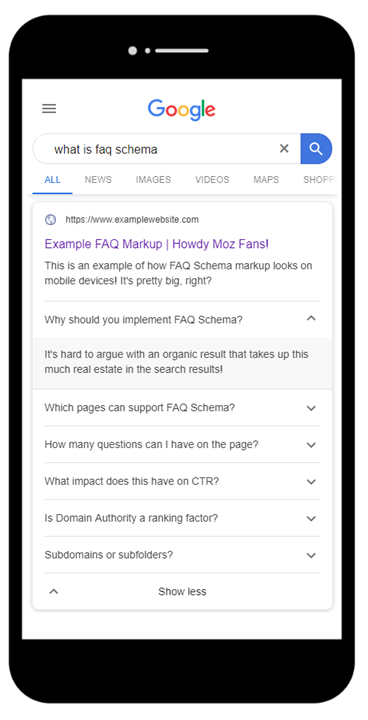 As in the case of other types of markup, all content is tagged scheme FAQ, should be 100% the same as the content that is visible to users on the original page. In addition, FAQPage markings should not be used for advertising.
Effect on CTR
It is important to note that the introduction of this type of layout is associated with certain risks: if the content is very informative, users will be able to get all the answers right in your search results, and will not go to the site. We are faced with this situation in the first implementation of the scheme FAQ for one of our customers - page impressions have increased, while clicks decreased.
This event allowed us to detect a useful feature of the scheme FAQ: the fact that Google supports links and other HTML-code as part of responses.
Analyze your answers for the possible addition of links to other relevant pages, and you can use the FAQ markup to drive traffic to more than one page of a site. As a result of using the information content can direct users to the page of goods and services.

Using this strategy, it is important to remember that links to other pages should be of value to users and also to be contained in the content of the original page to markup is 100% consistent with its content.
HowTo
Marking HowTo - another new type of structured data that can be used to improve the efficiency of articles with step by step instructions.
As in the case of markup FAQ, Google imposes certain requirements for content pages that can and can not be added to the structured data:
HowTo can not be used for advertising purposes, and inappropriate content;
Each step in the instructions to include all steps from source content;
You can also mark images corresponding step, materials and tools;
HowTo type elements can not be used on pages with recipes. For them is a different layout.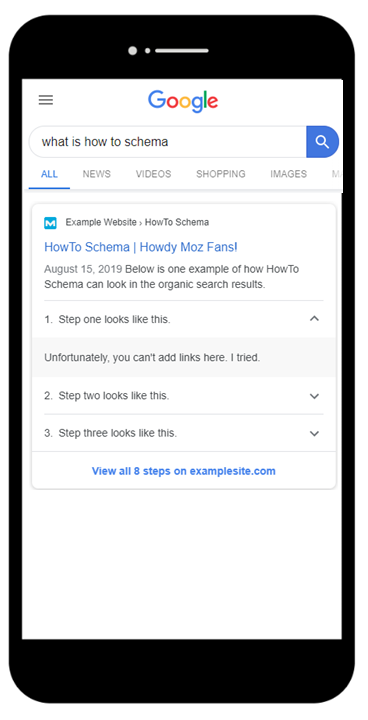 Unfortunately, unlike the markup FAQ, the text of which can be added for each step of the instructions is not clickable. However, the individual steps themselves can be anchors on the page sub-sections corresponding to each stage of the process, if you include a hash-links and images in markup HowTo.
Enhanced results HowTo have two visual template:
The first pattern includes thumbnail images for each step in the process. In this template, users can click on each step to get on the same step on the page. In Search Console hash references (#) are recorded separately, which allows you to track impressions and clicks for each step in the HowTo-instructions.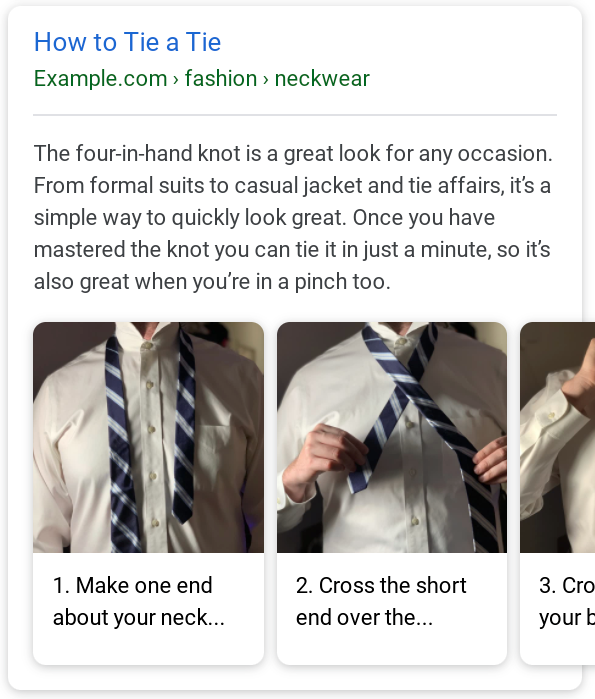 The second template is used to show steps "accordions".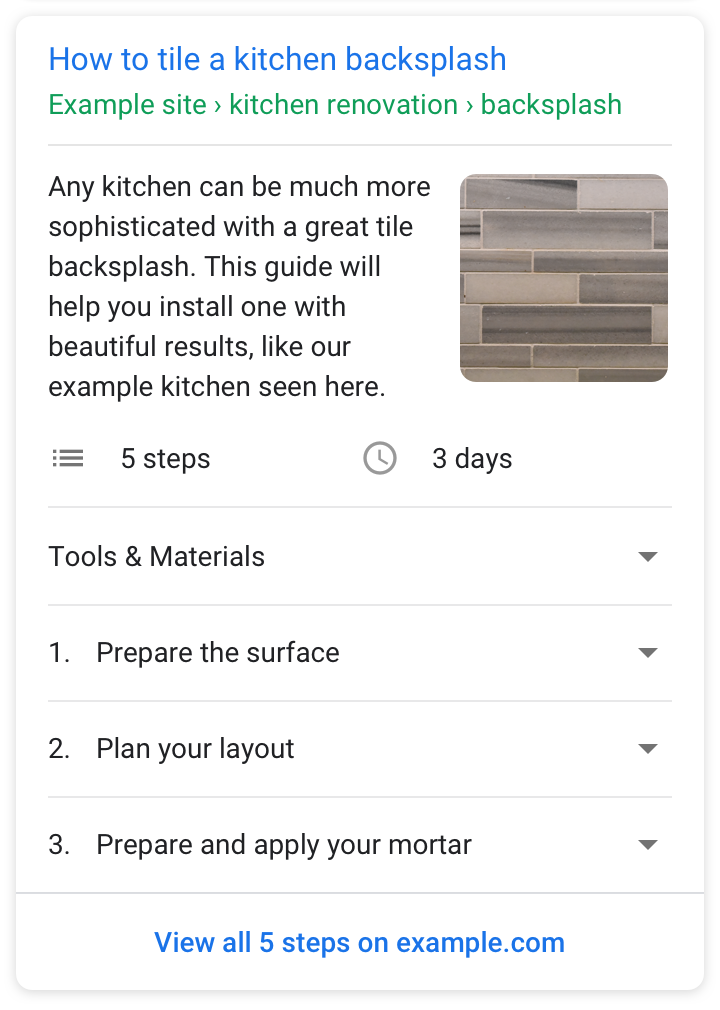 One of the advantages HowTo scheme is its potential for voice search: correctly labeled HowTo-content can be sounded Google Assistant. When users ask the assistant voice about something that involves getting instructions, the content, marked up with HowTo schemes are more likely to be sounded in response.
As in the case of scheme FAQ, HowTo markup has both pluses and minuses. Given that extended the results of this type occupy a large space in the issue, it's a great way to stand out among competitors. However, if users will be able to obtain all necessary information directly in search results, they will not need to go to the site, and this leads to a growing no-click behavior to Google.
Does HowTo markup getting featured snippets of queries relating to the instructions?
Given that almost every request is to receive instruction, displays the chosen snippet, we wanted to check whether there is a correlation between the introduction of the markup HowTo and getting featured snippet.
We have analyzed the 420 URL, which can already ranked in the selected snippets of frequent «How to» requests and found that only 3 pages use HowTo markup.
Although this type of structured data began to be supported by Google recently, there is no information indicating that marking HowTo is a prerequisite for getting a site to favorites snippets on «How to» requests.
Q & A
This markup is used for those pages that after one particular issue are the answers. If the page contains some questions and answers, in this case more appropriate option is a scheme FAQ.
Also, according to documents the Google, if the question is given only one answer, while others can not add the markup can not be used QAPage. In such cases, you should also use structured data FAQ.
Marking Q & A - is a great option for forums and questions and answers service, where users ask and community members to meet him.
Google also strongly recommends that QAPage markup contained separate URL for each answer. This improves the user experience.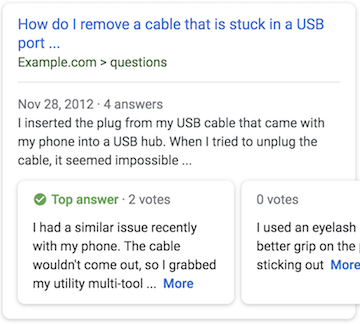 As in the case HowTo scheme, it can be done using a hash references (#), which then can be tracked individually in the Search Console.
The combination of different types of markup
New markup types can also be combined with other schemes which allow to obtain enhanced results on the same page. For example, the markup FAQ perfectly complements schemes such as Product or Professional Service.
The screenshot below shows how the combination of different types of markup might look like on a mobile device: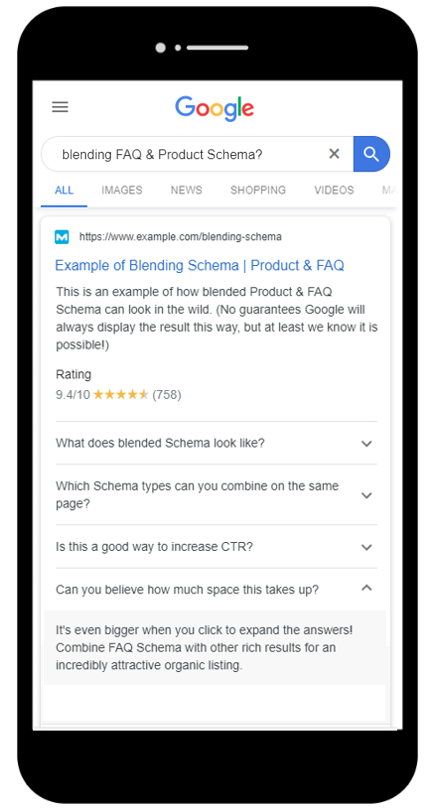 If it makes sense for your content, you may want to test the addition of frequently asked questions or HowTo markup on those pages, where there are already other types of circuits. As a result, one can come to the fact that Google will display several types of advanced results of multiple queries at the same time or will change the advanced snippets for your site, depending on the request. This in turn can lead to a significant increase in CTR.
Note. There is no guarantee that Google will be displaying a mix of types of markup in the same manner as is done for those sites that have implemented them. Google is constantly changing its approach to the display of the advanced results, so it's important to test it on their own pages.
Risks associated with the addition of markup
It would be wrong to talk about the use Schema.org markup, without warning about possible risks.
First, Google has specific criteria regarding how markings should be used, and that is an abuse of (intentional or not - does not matter). Therefore it is very important to follow the rules of the company, in order to avoid manual sanctions. A common mistake that leads to sanctions is to add markup to the information that is invisible to users on the page.
Secondly, it may be tempting to embed a cue quickly, without thinking carefully the impact that this may have on the page CTR. As a result of the addition of structured data can have as positive an impact on the user experience, it will lead to a decrease in traffic to the site (since users will get all the necessary information directly in search results). In this regard, before implementing the layout, you need to think carefully how to do it (and make it even), so as not to break the rules, and Google does not have a negative impact on website traffic.
Finally, it is also possible that Google will update its own requirements for these types of advanced results, if it finds that the new markup types lead to spam or low quality search results.
Avoid misuse of the markup, otherwise Google can deprive us of the opportunity to enhance the organic results in the future.