Advertising platform myTarget updated tools conversion attribution, greatly expanding their capabilities. Now customers will be able to assess the distribution of targeted actions not only on days of conversion, but also by date ads. Due to renovation, the advertisers will receive more accurate assessment of the effectiveness of performance-campaigns.
Users do not always go to buy immediately after viewing advertising - can sometimes take a few days or months between the two events. Because of this in the statistics may be incorrect conversion rates relate to the shows, and the target price action (CPA or CPI) may differ from that set. Accounting for conversion on the date of display ads will increase the accuracy of the results, analysts, and help you make informed decisions for the further development of performance-campaigns.
In assessing the conversion date of the show, you must take into account the attribution of the window - a period that has passed since the ad to the user performing the desired action. Attribution window will be different for companies in different business sectors. For example, a clothing store can estimate the cost of raising user within seven days from the date of display advertising, and in real estate during this period reaches six months or more.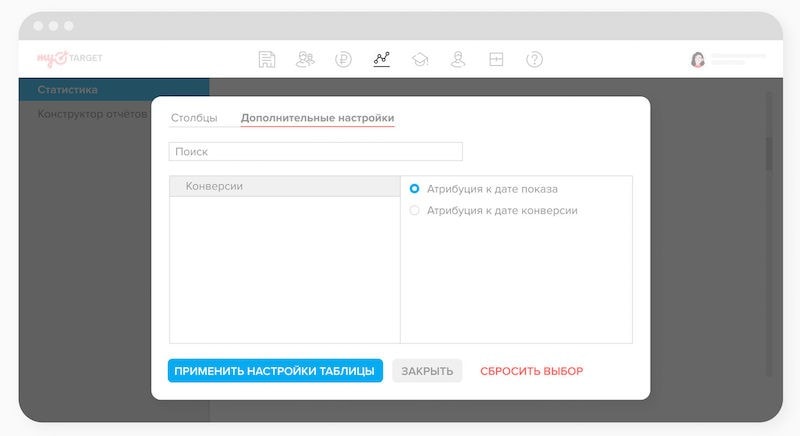 The updated tool makes it possible to select one of the available options - attribution to display the date or the date of conversion (for those who are used to such an evaluation system). Default enabled attribution to display the date. This makes it possible to analyze the conversion value of a particular day of impressions and objectively decide on the rate and efficiency of the campaign.
Recall that in early June myTarget advertising office an opportunity to mass additions and deletions of cities and regions. Update simplifies the setting of advertising and helps to save time to create targeted campaigns by geography.